Berneray Unveiled: A Tranquil Escape in the Hebrides
Berneray exudes a unique charm in the captivating Hebrides archipelago that lures travelers seeking tranquility and unspoiled landscapes. This small but enchanting island, with its white sandy beaches, turquoise waters, and close-knit community, offers an ideal getaway for those yearning to connect with nature and discover a world of serenity.
Reaching Berneray involves an exploration of Scotland's western coastline. Begin your journey by making your way to the Isle of Skye, a well-known gateway to the Hebrides. You can catch a 1 hour ferry ride from Skye to Berneray using Calmac , connecting you to this hidden gem. The journey is a picturesque experience as you traverse.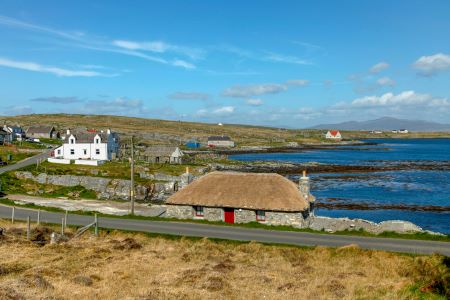 Berneray Beaches explore the island's pristine, white sandy beaches, such as Traigh Bhearnaraigh. Take leisurely walks, enjoy picnics, and relish the tranquillity of these secluded shores. St. Kilda Viewpoint embark on a hike to the St. Kilda viewpoint, offering breathtaking panoramic views of the Atlantic Ocean and the nearby archipelago of St. Kilda, a UNESCO World Heritage Site.
Visit the Berneray Heritage Community Centre to learn about the island's history and culture. Explore ancient ruins, including a mediaeval chapel and the remnants of a Bronze Age village. Bays Loch Seal Colony Scotland's landscape often hosts seals, but rare are the places where observing a colony is effortless. Rarer still are those locations with a purpose-designed area for seal watching, made possible by the steadfast presence of these marine mammals. While binoculars might enhance the experience, truthfully, they're hardly necessary because the seals are within arm's reach, offering a remarkable view.
Accommodation in Berneray, a small island in the Outer Hebrides of Scotland, typically consists of various options that cater to the island's unique and remote nature. Due to its size and location, Berneray might have a few traditional hotels, but it offers a range of lodging choices that capture the island's charm and natural beauty.
Blackhouse Retreat is a traditional allure of this historic island blackhouse seamlessly transitions into the contemporary and inviting interior of the dwelling. The bedroom boasts an impressive four-poster bed, complete with bed linen and towels provided. The cottage is conveniently located just a short stroll from the exquisite beach adorned with golden sands and turquoise waters. The dark skies above are a delight for stargazers, particularly during the autumn and winter seasons, and the elusive Northern Lights might also grace the heavens – so keep a vigilant watch!
Anglers View is a classic stone-built residence exuding comfort and charm. Its prime location in the picturesque village of Leverburgh, nestled within the breathtaking Isle of Harris, enhances its appeal within the house. One can enjoy panoramic vistas of the awe-inspiring hills and serene lochs that envelop the village. Central placement ensures easy access to many conveniences, as it rests only a short distance from the shop, hairdressers, post office services, restaurant, and the ferry terminal—an embarkation point for the captivating St Kilda cruise excursions.
Loch Roag Guest House & Eshcol Guest House is close to the coastline set within the enchanting Isle of Lewis. The region's landmarks include the remarkable Callanish Stone Circle and the historic Arnol Blackhouse. Additionally, the intrinsic allure of the area's natural splendour can be admired at Uig Sands. The closest airport is Stornoway, reachable within a 32-minute drive. For those eager to explore, the Calanais Visitor Centre is a mere 4-minute drive away, while the awe-inspiring Callanish Stone Circle awaits just a 5-minute journey by car.
Newtonferry following your immersion in the area's serenity, invigorating walks, fresh sea air, and captivating beaches find solace at day's end within the comforting embrace of this charming and snug pod. Positioned within the Isle of North Uist, this cottage is nestled in a serene rural expanse, offering proximity to the mesmerising coastline. Noteworthy cultural attractions include Taigh Chearsabhagh and the MacGillivray Centre. The area boasts landmarks such as Bharpa Langass & Pobull Fhinn and the historic St. Clement's Church.
Sealladh Mara presents itself as a contemporary and elegantly designed family vacation residence. Newly constructed in the summer of 2015, this property boasts panoramic vistas from each window, encompassing sights that stretch from St Kilda to the majestic Cuillins of the Isle of Skye. It holds an advantageous location, conveniently within a short walking distance of Berneray's remarkable West and East beaches. Lochmaddy Ferry Terminal only being 25 minutes away.
Berneray, a jewel within the Hebrides, offers an unparalleled escape into the heart of unspoiled nature and island life. Whether you seek solitude on its beaches, exploration of its rich history, or engaging family adventures, the island delivers an experience that resonates deeply. While savouring its serenity, remember that nearby islands also offer opportunities to explore Scotland's renowned distilleries, ensuring your journey is a perfect blend of relaxation, discovery, and cultural enrichment.