Barra is a historically rich haven in Scotland's Outer Hebrides. Covered in beautiful beaches and never-ending greenery, it is the perfect destination for anyone seeking a getaway where you can leave the real world behind. With evidence of settlements dating back to the bronze age, you can expect a glimpse into Scotland's earliest history and feel like you've teleported back hundreds of years. Barra will have something for you whether you're fond of arts and culture or frolicking in the great outdoors.
Travelling to Barra is both easy and an adventure in itself. There is a direct LoganAir flight from Glasgow which only takes 1 hour and 15 minutes, which is exceptional in itself; however, if you look out the window upon arrival, you'll find that there is no runway, only a beach. You hop off the plane and are met with the beautiful white sand beaches and dreamy blue sea. You can also enjoy a coffee and cake from the airport cafe with a view of the sands. It is also accessible by CalMac ferry from Oban, a train ride from Edinburgh and Glasgow. The island can be conquered by car in half an hour, and there is a frequent bus service, so Barra is your oyster once you arrive.
For the artistically inclined, there is lots of inspiration to be found. There is a huge café culture where you can find the works of local artists on display and enjoy a nice brew, and the Barra Heritage Centre where you can learn about the Isle's clan-ruled history and look at some ancient artwork. Kisimul Castle provides a close-up look into Barra's clan-ruled past, medieval architecture, and astonishing history. Found on an island just off the shore in Castlebay, it is accessible by boat on Thursdays, Fridays and Saturdays. The beach pavilion of Traigh Eais has motivated artists to try and capture its beauty for centuries; its high exposure to the elements means you can expect dramatic rolling waves and perfectly preserved dunes. If you're brave enough to visit, you'll think you've found heaven on Earth (just with much, much more wind). There is often live music in pubs like the Bar/Restaurant inside the Craigard Hotel.
Barra has some of the most scenic landscapes in the Outer Hebrides, so there are endless possibilities if you enjoy exploring in the fresh air. Sea swimming is a massive part of Barra's intimate culture; the Hebridean beaches host white sand and crystal clear water, so its popularity is justified. Borve locates Tangasdale Beach on the island's West Coast and has perfect conditions for surfing and swimming. Once you're done, you can enjoy a takeaway pizza from Joan's Pizza to re-energize. Traigh Hamara is another pristine white beach with perfect swimming opportunities and is located slightly further up, just off Circle Road.
For cycling enthusiasts, the road encircles the entire Isle and takes around two hours to complete; Bike Hires are available from Castlebay. On this route, you can stop off at the beaches, enjoy the unmatched landscape and tootle around the towns exploring the café culture and tight-knit local communities. For the hikers among us, Barra has many trails of varying difficulty all around the island. For beginners, there is an hour-long walk from Castlebay to a small headland overlooking Ledaig Bay; this is a fantastic place for spotting wildlife. Vatersay is a short bus journey from Castlebay, and the hike starting here is littered with historical settlements and interesting geographical features. It is around 6.75km and can take 2-3 hours, but you can fuel up at the café in Vatersay's town hall, where the hike begins.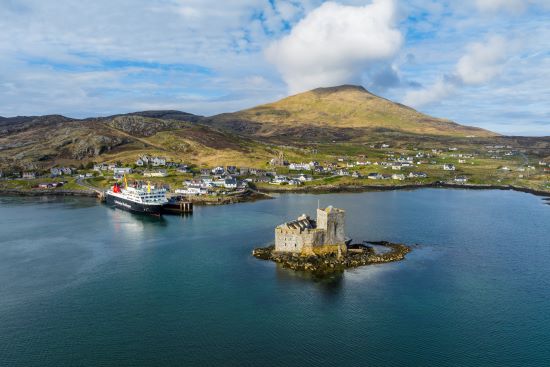 It's worth bringing binoculars to Barra as the birdwatching scene is unmatched. Many twitchers frequently come to the Isle for shrikes, redpolls and even white-tailed and golden eagles. Birdwatching guides can be found here birds of Prey, barra birdies.
Due to its remote location, the accommodation on Barra is mostly family owned and cosy. The hotels and guest houses all have a warm feel, and you will be very welcomed by the hosts.
Nask locates in Bayview and is a 15-minute bus ride/25-minute walk from Castlebay, meaning local restaurants and shops are always close. It is a guest house with three spacious rooms that sleep two, a luxurious cabin with views overlooking Castlebay, and a gorgeously comfortable king-size bed. You can expect a full breakfast cooked for you in the mornings, and the hosts, Barbara and Martin, will even provide a cot if you come with your little one.
Open from May to late September, the Barra Beach Hotel is a family-run gorgeous accommodation located by Borve and easily accessible from Circle Road. The rooms boast a stunning sea view, and the hotel even has the 'Bolt Hole', an open-plan self-contained cabin which sleeps six. There is an atmospheric lounge bar on offer, and both Allasdale and Castlebay are around a 40-minute walk/10-minute bus away for eating out. Residents have a sea-view dining room to enjoy hot soup or nutritious salads with locally sourced meat and fish.
The Heathbank is a five-bedroom cosy haven located on the island's North East coast and has an old-timey atmospheric restaurant bar inside the premises. Owned by the friendly MacNeil family, each room has an en-suite ranging from twins and doubles to full king-size suites with complete amenities. Again, It is accessible from the circular road, a mere 2.5 miles from the airport, and 6 miles from the homely capital, Castlebay. The Ardmhor cafe is a 50-minute walk/6- minute scenic drive away, and you can enjoy a brew with a view there.
Only a couple minute's walk from the ferry terminal, the Castlebay Hotel is in the heart of Barra's capital, surrounded by restaurants, shops and tea rooms. It has 15 rooms that sleep between one and three, so the solo traveller can avoid higher rates for a double room. The hotel has separate bar and restaurant areas filled with local produce and yummy dishes. It is rated in the top 5 restaurants in Barra, and we can guarantee it has something for everyone. The rooms overlook the bay and have a lovely homely feel in line with the rest of the island's friendly vibe.
These two magical chalets are located directly opposite Bayview Guest House on the shore of the secluded Bagh Bead with full amenities, plentiful parking and a wholesome welcome package. The Bonnie Views are unmatched, and the vast windows allow you to bask in all its glory even if the weather isn't cooperating. The chalets are a short drive or 15-minute walk from Castlebay but feel removed entirely and peaceful. They are self-catering, so Bonnie View is perfect for playing around in the kitchen with local delicacies.