Isle of Skye: Scotland's Enchanted Paradise
Nestled off the northwest coast of Scotland, the Isle of Skye is a captivating gem renowned for its breathtaking natural beauty and rich cultural heritage. This mystical island is famous for its rugged landscapes, ancient castles, and picturesque fishing villages.
Skye is celebrated for its dramatic landscapes, including the otherworldly Quiraing rock formation, the Fairy Pools with crystal-clear waters, and the iconic Old Man of Storr rock pinnacle. Discover the island's history at Dunvegan Castle, Scotland's oldest continuously inhabited castle, or explore the atmospheric ruins of Duntulm Castle and Castle Moil. Skye is a haven for wildlife enthusiasts. Look for golden eagles, puffins, seals, and even otters along the rugged coastline.
With numerous hiking trails, including the famous Trotternish Ridge and Cuillin Mountains, Skye offers outdoor adventures for all skill levels. You can also enjoy sea kayaking, fishing, and mountain biking.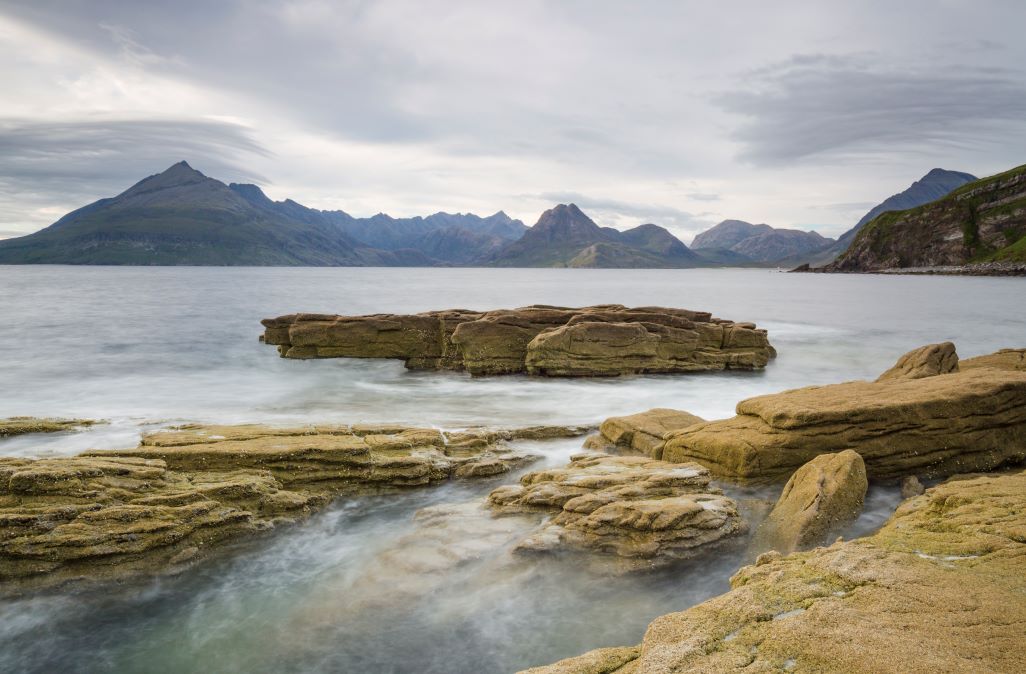 How to get to the Isle of Skye
To get to the Isle of Skye, you'll typically need to travel by train, bus, car, and ferry or by direct bus service. Here's a general guide on how to get to the Isle of Skye:
By Train and Bus:
Start by taking a train to Inverness or Kyle of Lochalsh. These are the nearest train stations to the Isle of Skye.
You can continue your journey to the Isle of Skye by bus from Inverness or Kyle of Lochalsh. Several bus services run between these towns and the Isle of Skye, with multiple stops on the island, including Portree, the main town on Skye.
By Car:
If you're driving to the Isle of Skye, you can follow these directions:

From Inverness: Take the A82 to Invermoriston, then the A887 to Kyle of Lochalsh, where you can cross the Skye Bridge onto the island.
From Glasgow: Take the A82 north to Inverness, then follow the same route as above.

From Edinburgh: You can take the A1 or M9 to Stirling and join the A84 to Callander. From there, take the A85 to Invergarry and continue on the A87 to Kyle of Lochalsh.
By Ferry:
Another option, especially if you're coming from the Outer Hebrides, is to take a ferry to the Isle of Skye. Ferries operate from several locations, including Mallaig on the mainland and Armadale on Skye.
Direct Bus Services:
Direct bus services run from major Scottish cities like Glasgow and Inverness to various locations on the Isle of Skye. These services can provide a convenient option for travellers.
To reach Skye, drive across the Skye Bridge from the Scottish mainland or take a ferry from Mallaig or Armadale. The journey is part of the adventure, offering stunning views of the surrounding landscapes.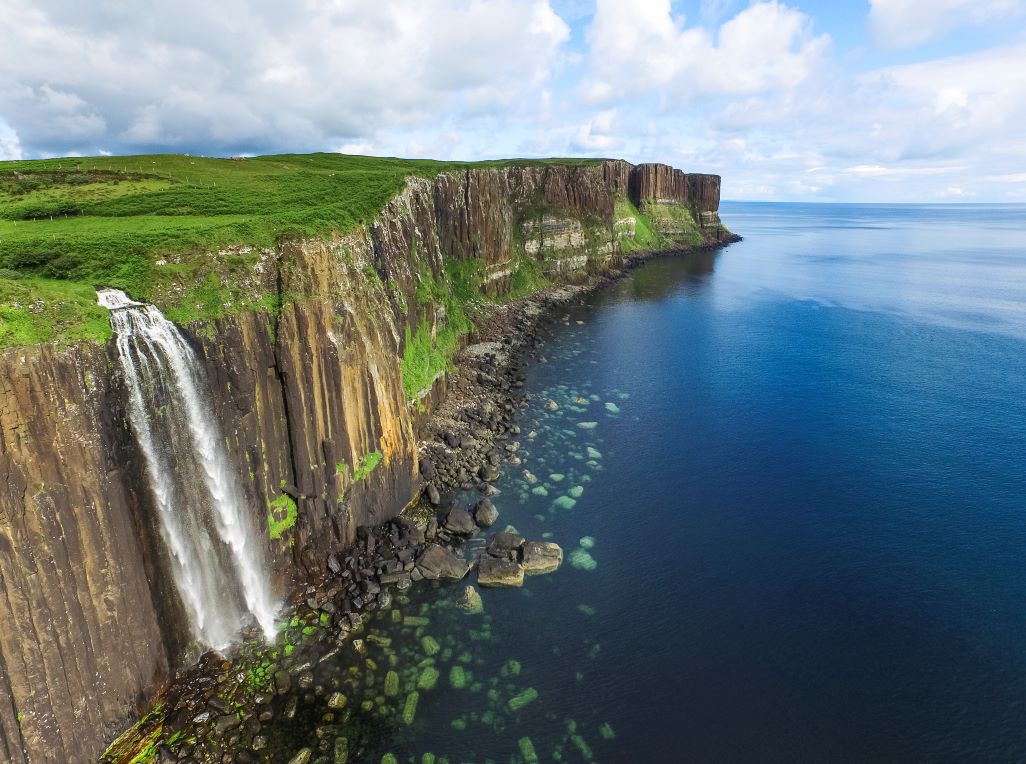 Things to do
The Quiraing is a stunning and iconic geological formation on the Isle of Skye. A dramatic landscape of rugged cliffs, towering pinnacles, and steep slopes characterises it. This natural wonder is a popular destination for hikers and photographers, offering breathtaking views of the surrounding landscape, including the Trotternish Ridge and the Isle of Raasay. The Quiraing's unique and otherworldly appearance results from ancient landslides and geological processes, making it a must-visit attraction for anyone exploring the beautiful Isle of Skye.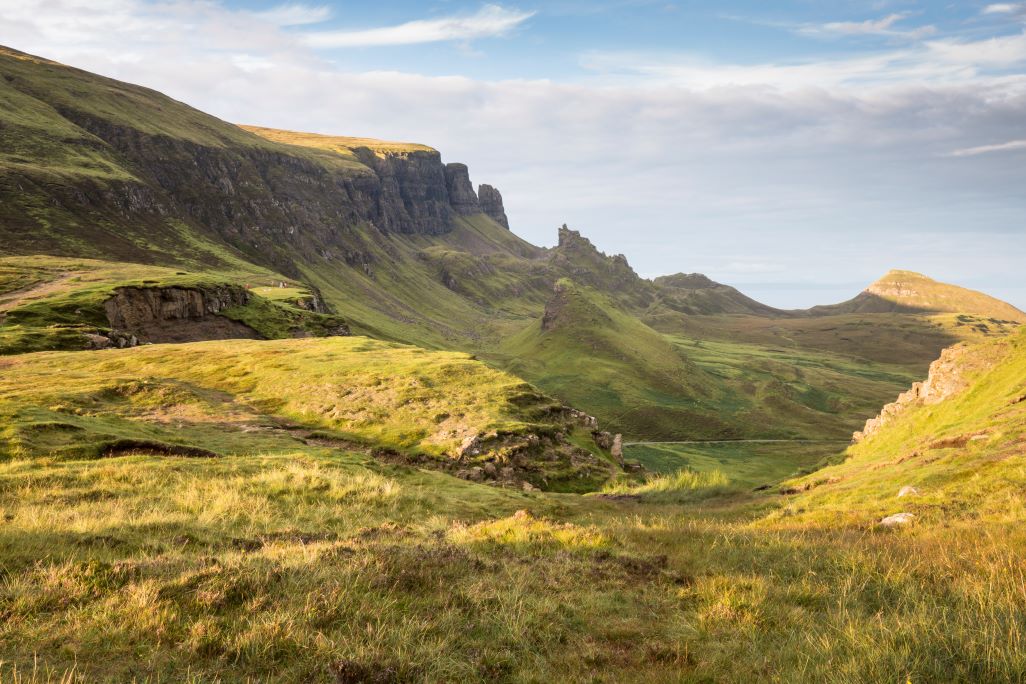 Fairy Pools is a captivating natural attraction on the Isle of Skye. These enchanting pools are renowned for their crystal-clear, turquoise waters that cascade down a series of picturesque waterfalls amidst the rugged landscape of the Cuillin Mountains. Visitors are drawn to the Fairy Pools for their ethereal beauty and the opportunity to hike through the stunning surrounding scenery. The pools have a mythical allure, and their name is derived from local folklore, which suggests that fairies frequent them. Adventurous souls often come here to swim in the refreshing pools, making it a popular destination for nature lovers and photographers seeking to capture the otherworldly charm of this remote Scottish gem.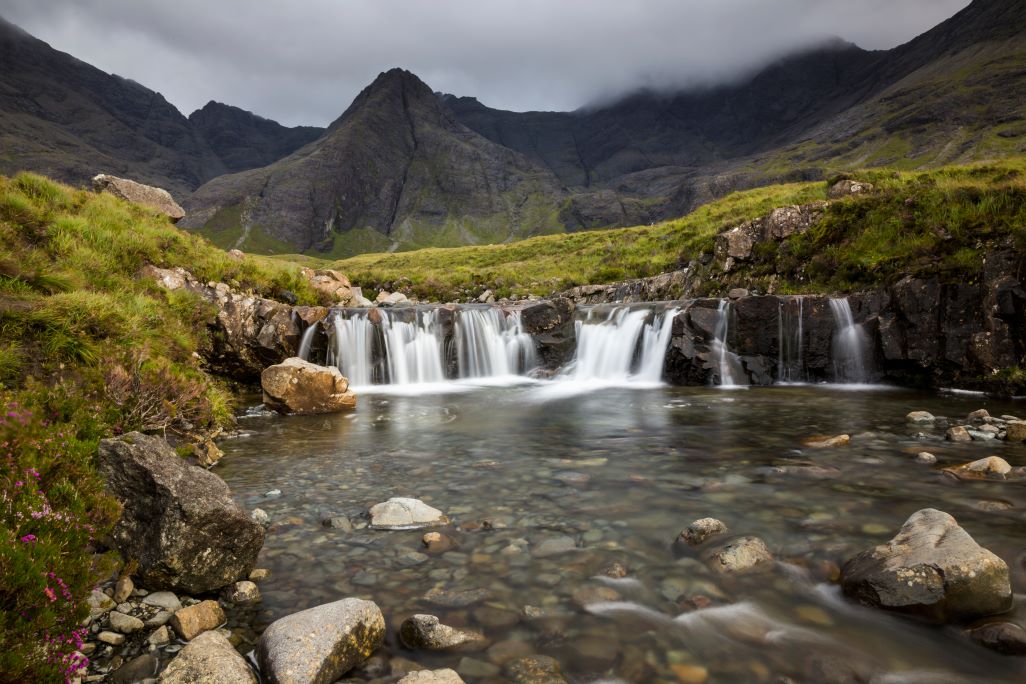 The Old Man of Storr is a captivating natural landmark on the Isle of Skye, Scotland. This iconic geological formation consists of a massive rock pinnacle, jutting dramatically out of the landscape. Standing tall amid the Trotternish Ridge, the Old Man of Storr is a testament to the island's ancient and rugged beauty. It's a popular hiking destination, offering visitors a moderately challenging trek that leads to a viewpoint with breathtaking panoramic vistas of the surrounding landscape, including the sparkling waters of the Sound of Raasay and the distant Cuillin Mountains. The Old Man of Storr is a geological wonder and a must-see attraction for anyone exploring the Isle of Skye.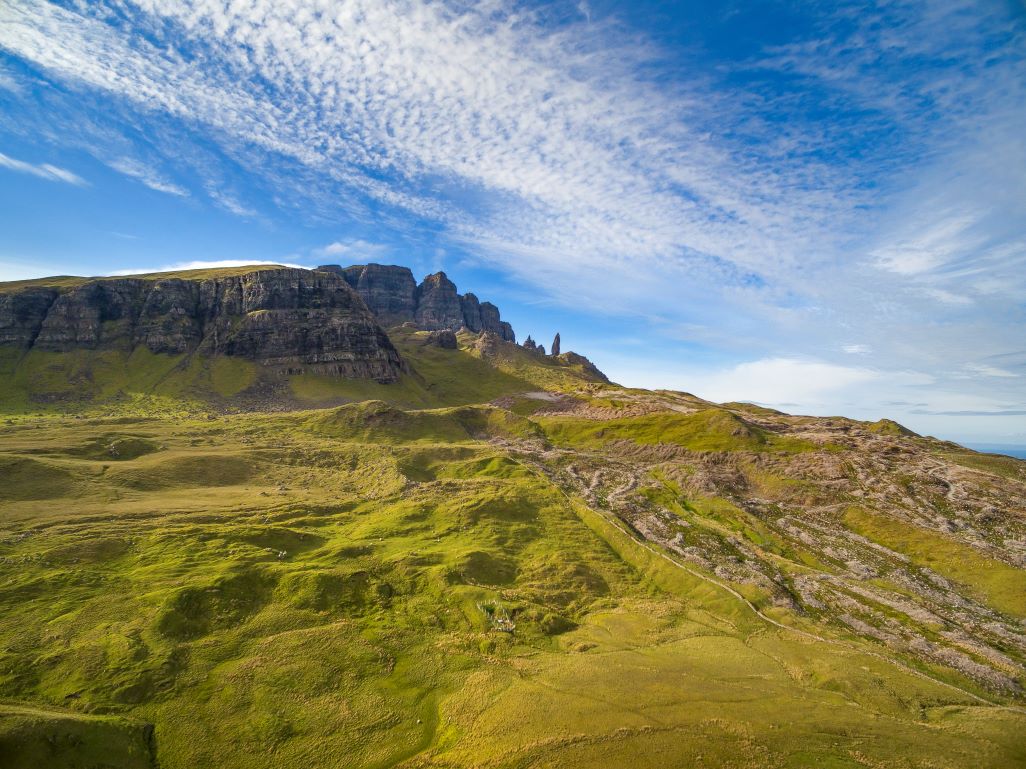 Dunvegan Castle is a historic and picturesque castle on the Isle of Skye. It is renowned as the oldest continuously inhabited castle in the country, with a history of over 800 years. Situated on the shores of Loch Dunvegan, the castle's setting is nothing short of breathtaking. Visitors to Dunvegan Castle can explore its rich heritage, discovering the stories of the MacLeod clan, who have called it home for centuries. The castle boasts beautifully maintained gardens, including lush greenery, colourful blooms, and tranquil water features. One of the highlights of a visit is the chance to take a boat tour of Loch Dunvegan, where you can observe seals in their natural habitat on the nearby islands. Whether you're interested in history, scenic beauty, or wildlife, Dunvegan Castle offers a captivating and immersive experience on the Isle of Skye.
Talisker Distillery is a renowned whisky distillery nestled in the village of Carbost on the Isle of Skye, Scotland. This distillery is celebrated for producing some of Scotland's finest single-malt whisky. Its location on the rugged island of Skye adds a unique character to its whisky, often described as having a distinct maritime and smoky flavour.
Visitors to the Talisker Distillery can take a guided tour that offers insights into the whisky-making process, from mashing and fermentation to distillation and maturation. The tour concludes with a tasting session, allowing guests to savour the complex flavours of Talisker whisky.
Places to Stay
Accommodation on the Isle of Skye offers diverse options to suit every traveller's tastes and budget. Skye's accommodations provide a comfortable base for exploring this enchanting island, from cosy cottages and charming B&Bs to luxurious hotels and unique camping experiences.
Skeabost House Hotel is a captivating and historic accommodation on the picturesque Isle of Skye. Located on the tranquil banks of Loch Snizort, this hotel offers a unique blend of luxury, elegance, and natural beauty. One of the highlights of Skeabost House Hotel is its serene setting, with Loch Snizort's shimmering waters and lush greenery. The hotel features a golf course for enthusiasts of the sport, while those seeking culinary delights can dine at the hotel's gourmet restaurant. Here, you can savour locally sourced cuisine, including fresh seafood and traditional Scottish dishes. It's a haven of tranquillity, offering a peaceful retreat for those looking to immerse themselves in the beauty of Skye while enjoying the comforts of a luxury hotel.
Cuillin Hills Hotel is a captivating and renowned hotel perched high above Portree on the Isle of Skye. This charming establishment offers guests a unique blend of comfort, breathtaking scenery, and Scottish hospitality. The hotel is celebrated for its unparalleled views, encompassing the picturesque Portree Harbor and the majestic Cuillin Mountains, a rugged and iconic part of Skye's landscape. These vistas can be enjoyed from the hotel's comfortable rooms and public areas, providing a sense of immersion in Skye's natural beauty.
The Three Chimneys is an exceptional culinary and lodging experience in Colbost on the Isle of Skye. This renowned establishment is celebrated for its Michelin-starred restaurant and luxurious accommodations. In addition to its culinary excellence, The Three Chimneys offers cosy and well-appointed guest accommodations, including rooms and cottages. These provide a comfortable and charming retreat on Skye, allowing guests to relax in a tranquil setting.
Skye Cabins offers a delightful and unique accommodation experience on the enchanting Isle of Skye. These cosy cabins perfectly blend comfort and immersion in Skye's breathtaking natural beauty. The cabins are thoughtfully designed and equipped, offering a comfortable and self-contained place to stay. With modern amenities and a warm ambience, Skye Cabins provide guests with a cosy and secluded retreat after exploring the island.
The An Airigh on the Isle of Skye is a charming and rustic cottage nestled in the picturesque landscapes of this Scottish island. This traditional stone cottage provides a cosy and authentic Scottish Highland experience, allowing guests to escape into the heart of Skye's natural beauty. Located in a serene and remote setting, the Anairigh offers a tranquil retreat from the hustle and bustle of everyday life. With its simple yet comfortable accommodations, it's an ideal place to disconnect from the modern world and reconnect with the rugged landscapes of Skye. Guests at the Anairigh can typically expect stunning views of the surrounding mountains and sea, creating a serene backdrop for their stay. It's an excellent choice for those seeking a peaceful and immersive experience in the heart of the Isle of Skye's breathtaking scenery.
Places to Eat
The Three Chimneys:
The Three Chimneys is an award-winning restaurant located in Colbost, near Dunvegan. It's renowned for its fine dining experience and use of locally sourced produce, including seafood. The tasting menu features seasonal ingredients and is a highlight for food enthusiasts.
The Old Inn:
Situated in Carbost, The Old Inn offers a warm and welcoming atmosphere. It's known for its classic Scottish pub fare, including freshly caught seafood and hearty dishes. Be sure to try some traditional haggis while you're here.
The Edinbane Inn:
This cosy pub and restaurant in Edinbane is known for its friendly atmosphere and excellent food. The menu showcases the best of Skye's produce, and you can enjoy local ales and whiskies while dining.
Sea Breezes:
Located in Portree, Sea Breezes is a family-run restaurant known for its seafood dishes, particularly platters and locally caught fish. The restaurant offers a warm and relaxed setting.
The Oyster Shed:
Situated in Carbost, near the Talisker Distillery, The Oyster Shed is a seafood shack offering fresh oysters, mussels, and other delights. It's a great place to enjoy a casual meal with stunning coastline views.
These dining establishments on the Isle of Skye combine the island's natural beauty with its rich culinary heritage, providing a memorable dining experience for visitors exploring the area.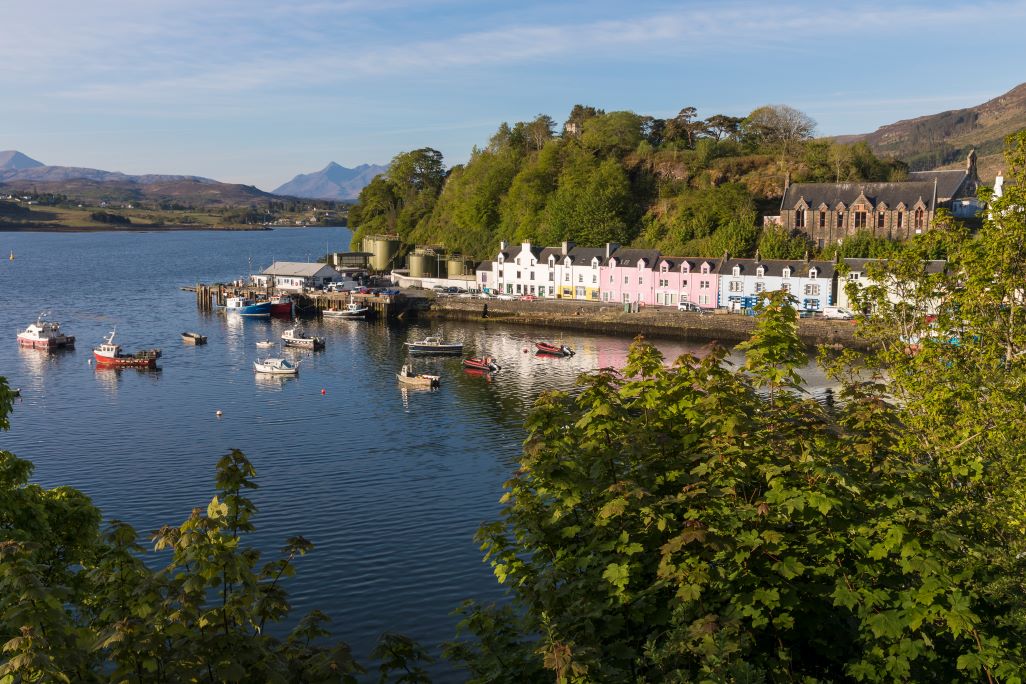 Things to with Kids

Fairy Pools:
The Fairy Pools, located near Glenbrittle, offer a magical experience for kids. These crystal-clear pools and waterfalls are surrounded by dramatic mountain scenery. Kids can enjoy a short hike to reach the pools, and some may even believe in the fairy tales associated with the area.
Dinosaur Footprints at A Corran Beach:
A Corran Beach on the Trotternish Peninsula is known for its dinosaur footprints. These fossilised imprints provide an exciting opportunity for kids to learn about prehistoric creatures while exploring the beach.
Dunvegan Castle and Gardens:
Dunvegan Castle, the oldest continuously inhabited castle in Scotland, is a fascinating place for kids to discover history. The castle offers guided tours and picturesque gardens to explore. Take the boat trip to see the seals in Loch Dunvegan.
Coral Beach:
Coral Beach near Dunvegan is a unique destination with striking white sands and colourful seaweed, making it an exciting and picturesque spot for a family outing. Kids can explore the beach and its intriguing marine life.
Wildlife Watching:
Skye is home to diverse wildlife, including seals, otters, eagles, and seabirds. Take your kids on a wildlife-watching adventure. Boat tours from locations like Portree offer opportunities to spot seals and other marine creatures.
The Isle of Skye is a destination that captivates the heart and soul of all who visit. Whether you're drawn by its natural wonders, historical sites, or the allure of its myths and legends, Skye promises an unforgettable experience. So, pack your bags and embark on an adventure to this enchanting isle, where the magic of Scotland's rugged beauty awaits around every corner.