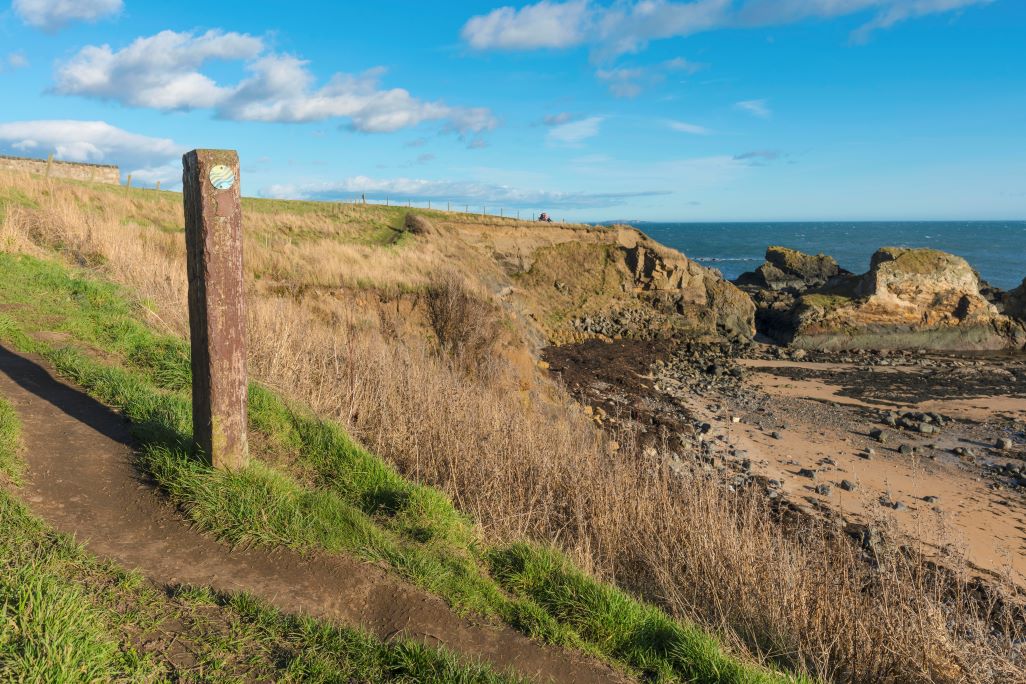 Exploring Fife: Scotland's Hidden Gem
Nestled in the heart of Scotland, Fife is a captivating region known for its rich history, stunning landscapes, and vibrant culture. Often referred to as the "Kingdom of Fife," this area offers a delightful blend of natural beauty, historic landmarks, and warm hospitality.
Fife is famous for its stunning coastal landscapes, best explored along the renowned Fife Coastal Path, a popular hiking destination.
This region is also known as the "Home of Golf," featuring iconic courses like St. Andrews that draw golf enthusiasts from around the globe. Amidst its breathtaking scenery, Fife boasts a rich historical tapestry encompassing royal palaces and charming historic towns. Fife's whisky heritage also enjoys global recognition among connoisseurs, offering a taste of Scotland's finest spirits.
Kirkcaldy, Glenrothes, Dunfermline, and Burntisland are just some of the bustling towns that draw numerous visitors to Fife. Kirkcaldy is the largest town in the region. Kirkcaldy boasts a thriving arts scene, a beautiful esplanade along the Firth of Forth, and the Adam Smith Theatre. Glenrothes is a planned town known for its modern architecture and green spaces. It's a centre for arts and culture in the region. Dunfermline is known for its historical significance. Dunfermline was once the ancient capital of Scotland. It's home to Dunfermline Abbey, where many Scottish kings are buried, and Andrew Carnegie's birthplace. Burntisland is known for its annual summer fair. Burntisland has a lovely beach, a historic harbour, and a charming town centre.
How to get there
From Edinburgh:
By Car: Take the M90 motorway north from Edinburgh. The journey takes about 45 minutes to 1 hour, depending on traffic.
By Train: You can take a train from Edinburgh Waverley station to various stations in Fife, including Dunfermline, Kirkcaldy, or Leuchars (for St Andrews). The train journey takes approximately 30 minutes to 1 hour.
From Glasgow:
By Car: Take the M8 motorway eastbound, merge onto the M9 and follow signs for the Forth Road Bridge. Cross the bridge into Fife.
By Train: You can take a train from Glasgow Queen Street or Central Station to various destinations in Fife. The journey time varies depending on your goal but typically takes 1.5 to 2 hours.
From Dundee:
By Car: If you're coming from Dundee, you can take the Tay Road Bridge south into Fife.
By Train: There are regular train services from Dundee to various stations in Fife, including Leuchars and Cupar. The journey takes around 15-30 minutes.
From St Andrews:
St Andrews is a town in Fife, so if you're already there, you're in Fife!
By Bus:
Fife is well-connected by bus services from various cities and towns in Scotland. You can check the bus schedules and routes on the website of the local bus operators or use online journey planning tools.
By Air:
Suppose you're travelling internationally or from a long distance. In that case, as mentioned above, you can fly into Edinburgh Airport (EDI) or Glasgow Airport (GLA) and proceed to Fife by train, bus, or car.
Things to do
St. Andrews is a historic and picturesque town on Scotland's east coast. It's best known as the "Home of Golf" due to its world-renowned golf courses, including the Old Course, which has a rich history dating back to the 15th century. Beyond golf, St. Andrews offers visitors a wealth of attractions, including the striking ruins of St. Andrews Cathedral and St. Andrews Castle, both steeped in mediaeval history. St. Andrews is a must-visit destination in Scotland with its charming streets, beautiful beaches, and timeless elegance.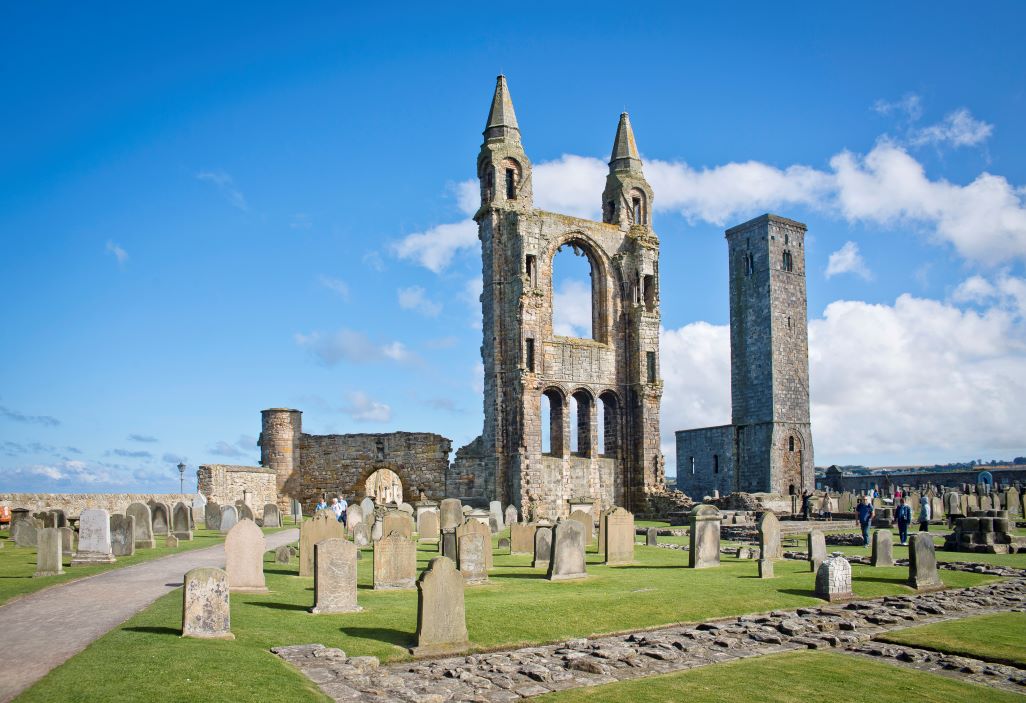 Kingsbarns Distillery is a renowned whisky distillery in the picturesque village of Kingsbarns. The distillery conducts informative tours where guests can learn about the distillation process, the selection of premium ingredients, and enjoy tastings of their fine whiskies. Set against a beautiful countryside backdrop, Kingsbarns Distillery is a must-visit destination for whisky enthusiasts and those looking to explore Scotland's whisky heritage in an authentic setting.
The Fife Coastal Path is a stunning long-distance hiking trail stretching approximately 117 miles. This well-loved path offers hikers breathtaking views of rugged cliffs, sandy beaches, and charming fishing villages. It's a perfect way to explore Fife's natural beauty and rich history, with opportunities to spot wildlife, uncover ancient ruins, and experience the tranquillity of the Scottish coast. Whether you're an avid hiker or simply seeking a stroll, the Fife Coastal Path promises an unforgettable journey through some of Scotland's most captivating landscapes.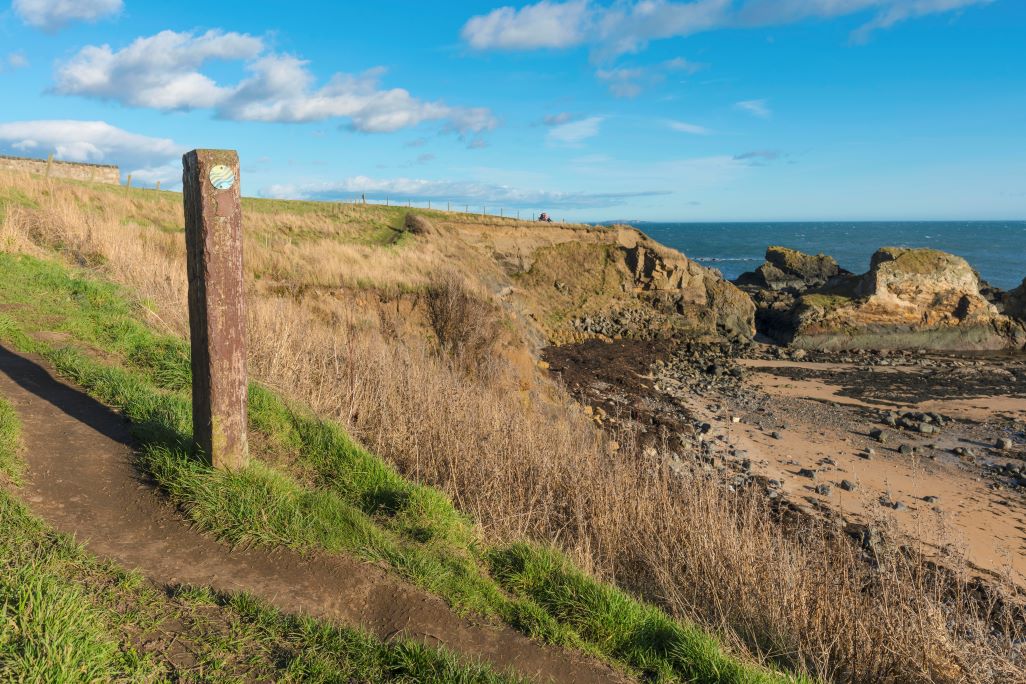 Anstruther and the East Neuk
Anstruther and the East Neuk is a captivating coastal region in Fife, Scotland, renowned for its postcard-perfect fishing villages, stunning seascapes, and maritime charm. Anstruther, the main town, boasts a picturesque harbour famous for its fresh seafood, mainly the delectable fish and chips. The East Neuk is a collection of charming coastal villages, including Pittenweem and Crail, each offering a unique blend of historic architecture, quaint streets, and beautiful beaches. Visitors can explore colourful harbours, visit local art galleries, and savour the serene coastal ambience that defines this idyllic part of Fife.
Falkland Palace is an enchanting historic site located in the picturesque village of Falkland. This stunning Renaissance palace was a favoured royal retreat for the Scottish monarchy, including Mary, Queen of Scots. Visitors can explore the beautifully preserved palace interiors, including its intricately designed rooms and stunning gardens. Highlights include the Tennis Court, a rare surviving example from the 16th century, and the lush gardens, where you can enjoy a stroll. Falkland Palace offers a captivating glimpse into Scotland's royal history and architectural splendour.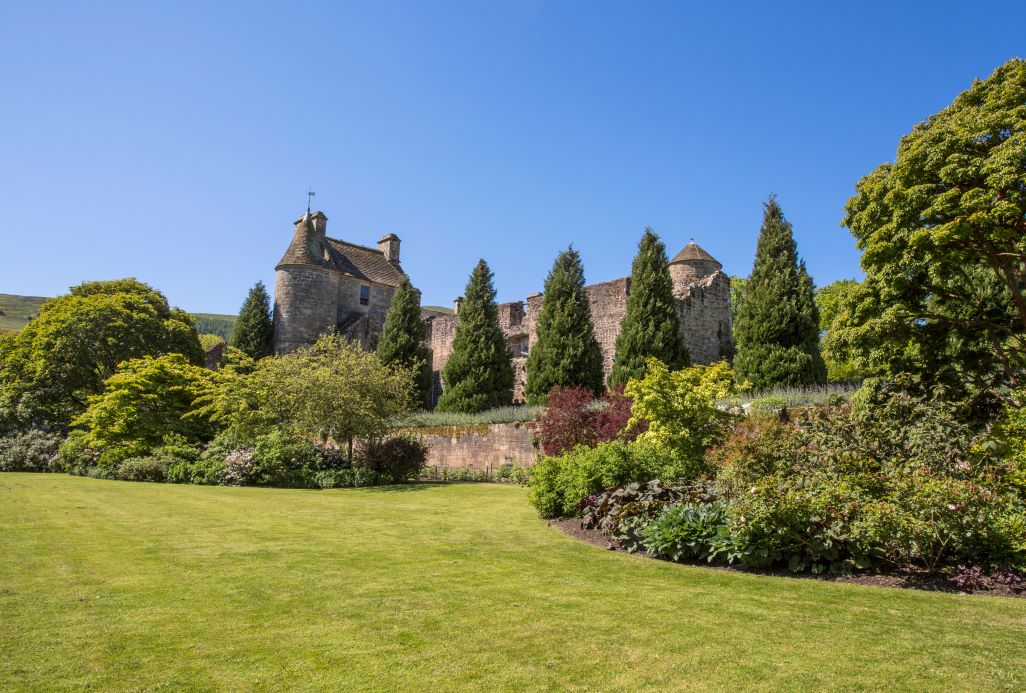 St. Andrews Cathedral, located in the historic town of St. Andrews in Fife, Scotland, is a magnificent and iconic mediaeval ruin that is a testament to its former grandeur. Dating back to the 12th century, it was once the largest church in Scotland and a centre of religious life. Today, its dramatic stone ruins evoke a sense of awe and history as visitors explore its towering remains, including the famous St. Rule's Tower. The cathedral's picturesque setting near the coast adds to its charm, making it a must-visit historical site for those exploring the rich heritage of St. Andrews.
Places to Stay
Dunclutha Guest House is a welcoming and cosy accommodation option located in the heart of the historic town of St. Andrews in Fife, Scotland. This charming guest house offers comfortable rooms and a warm Scottish hospitality that makes guests feel at home. Its central location allows easy access to St. Andrews' famous attractions, including golf courses, St. Andrews Cathedral, and beautiful beaches. With its comfortable amenities and convenient location, Dunclutha Guest House is an ideal choice for travellers exploring the St. Andrews area's rich history and natural beauty.
Madeira Cottages in Fife offers a delightful retreat in the scenic countryside. These charming cottages provide a peaceful and cosy atmosphere for visitors seeking a tranquil escape. Nestled amid picturesque landscapes, guests can unwind in comfortable accommodations with all the amenities needed for a relaxing stay. Whether it's a romantic getaway or a family vacation, Madeira Cottages provides a welcoming base for exploring Fife's natural beauty and nearby attractions. With their serene setting and warm hospitality, these cottages offer a memorable retreat in the heart of Scotland.
Balgownie Farm in Fife is a picturesque rural retreat that immerses visitors in the idyllic Scottish countryside. This charming farm stay offers cosy, self-catering cottages with modern amenities, making it an ideal destination for families and couples seeking a peaceful getaway. Set amidst rolling fields and farmland, Balgownie Farm provides a serene escape from the hustle and bustle of daily life. Guests can enjoy leisurely walks in the countryside, interact with friendly farm animals, and savour the tranquillity of rural living. It's a perfect choice for those looking to unwind and reconnect with nature while exploring the beauty of Fife's countryside.
Rufflets Country House Hotel is a prestigious and elegant accommodation in the heart of St. Andrews, Fife, Scotland. This historic country house hotel offers a luxurious retreat with beautifully appointed rooms, lush gardens, and top-notch amenities. Guests can indulge in fine dining, explore the meticulously landscaped gardens, or relax in the refined ambience of this Georgian mansion. Rufflets is an ideal choice for those seeking a tranquil escape with easy access to St. Andrews' golf courses, historical attractions, and stunning coastline, making it a perfect base for leisure and business travellers.
The Waterfront in Anstruther, Fife, is a delightful seaside accommodation offering guests a charming and scenic stay by the harbour. This welcoming destination provides comfortable rooms with picturesque views of the bustling harbour and the tranquil Firth of Forth. Visitors can savour fresh seafood at local restaurants, explore the historic streets of Anstruther, and enjoy leisurely walks along the picturesque coastline. With its prime waterfront location and cosy atmosphere, The Waterfront in Anstruther is ideal for those seeking a relaxing coastal getaway in Scotland.


Fairmont St. Andrews is a prestigious and luxurious resort on a cliff overlooking the North Sea in St. Andrews, Fife, Scotland. This five-star hotel offers an array of world-class amenities, including two championship golf courses, a lavish spa, fine dining restaurants, and elegant rooms and suites. Guests can indulge in relaxation and recreation while taking in breathtaking views of the Scottish coastline. Whether you're a golf enthusiast, spa lover, or simply seeking a lavish escape, the Fairmont St. Andrews provides a truly opulent and memorable Scottish retreat.
Places to Eat
The Peat Inn (Near St Andrews):
This Michelin-starred restaurant offers a fine dining experience focusing on locally sourced, seasonal ingredients. The Peat Inn is known for its elegant ambience and creative Scottish dishes.
The Cellar (Anstruther):
Located in the picturesque fishing village of Anstruther, The Cellar is renowned for its seafood. Enjoy fresh catches of the day and other delicious dishes in a cosy waterfront setting.
The Newport Restaurant (Newport-on-Tay):
Situated on the banks of the River Tay, The Newport Restaurant offers stunning views and a modern, Scottish-inspired menu. It's an excellent place for a special meal with a scenic backdrop.
The Wee Restaurant (North Queensferry):
The Wee Restaurant in North Queensferry is known for its welcoming atmosphere and delectable dishes. It's a charming spot to enjoy seasonal, locally sourced food.
The Criterion (St Andrews):
The Criterion is popular in St Andrews for its diverse menu, including seafood, steaks, and traditional Scottish dishes. The restaurant's historic building adds to its character.
Things to do with Kids
Located in the historic town of St Andrews, this aquarium is a hit with kids of all ages. You can explore marine life, including seals, sharks, penguins, and colourful fish. There are also interactive exhibits and daily animal feeding shows.
Visit Falkland Palace in the charming village of Falkland. Kids can explore the beautifully landscaped gardens, enjoy a game of tennis on the historic courts, and learn about the palace's history through engaging exhibits and activities.
In North Queensferry, Deep Sea World is a large aquarium where kids can get close to fascinating aquatic creatures. Highlights include the underwater tunnel, where you can walk through a massive tank filled with sharks and rays.
This cultural centre in Kirkcaldy features a children's library, interactive exhibitions, and a museum with displays of local history and art. It's an excellent place for kids to learn while having fun.
Craigtoun Country Park is a delightful family destination located just outside St Andrews. It offers various activities, including pedal boats on the pond, a miniature railway, adventure playgrounds, and beautiful gardens perfect for picnics.
Fife is a captivating region in eastern Scotland known for its rich history, picturesque landscapes, and vibrant culture. This diverse area offers natural beauty, historic landmarks, and warm hospitality. Fife has something to enchant every traveller, from stunning coastlines to renowned golf courses, from ancient castles to charming fishing villages. Whether exploring its historic towns, hiking along its scenic trails, or savouring its culinary delights, Fife's unique charm and character shine through, making it a must-visit destination in Scotland.