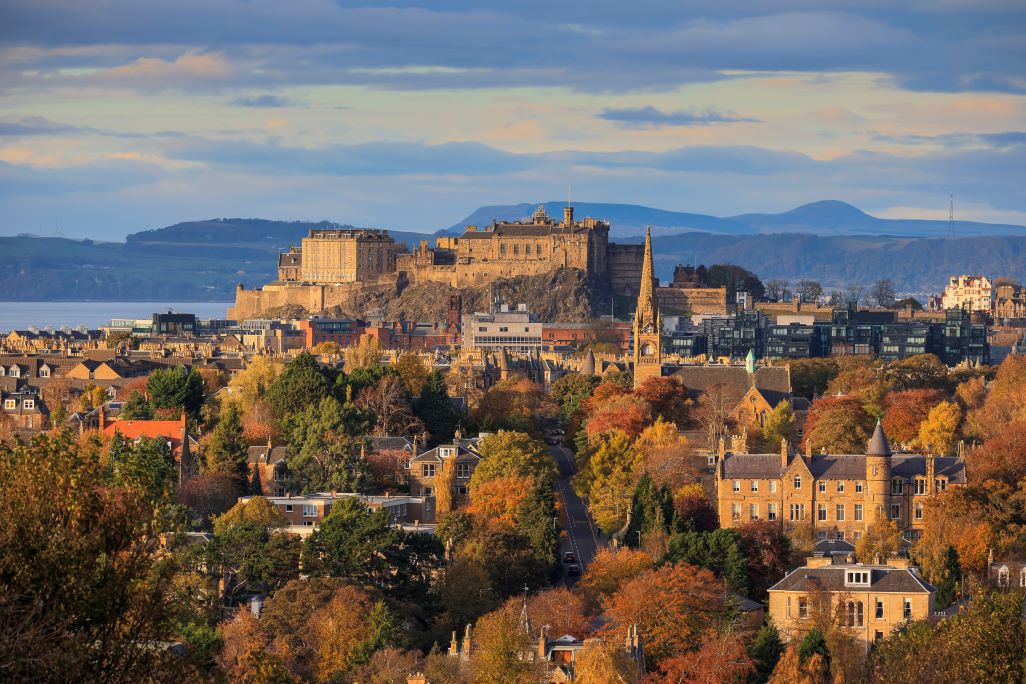 Exploring Edinburgh: A City of History, Culture, and Charm
Edinburgh, the capital of Scotland, with a population of five hundred thousand. It is a city steeped in history, culture, and natural beauty. It is nestled between the rugged hills and the stunning coastline. This enchanting city has something to offer every traveller. From its world-renowned festivals to its historic landmarks, Edinburgh is a destination that captivates the hearts of all who visit.
How to get there
Getting to Edinburgh depends on your starting location and mode of transportation. Edinburgh is Scotland's capital city and is well-connected by various means of transportation. Here are some common ways to get to Edinburgh:
By Air:
Edinburgh Airport (EDI): Edinburgh Airport is the primary gateway if you're flying internationally or from other parts of the UK. It's about 8 miles (13 kilometres) west of the city centre. You can take a taxi, airport shuttle, or bus to reach the city centre from the airport.
By Train:
Edinburgh Waverley Station: If you're travelling within the UK, Edinburgh Waverley Station is the central railway station in the city. It has frequent connections to major cities like London, Glasgow, and other destinations across Scotland and the UK.
By Bus:
Edinburgh Bus Station (St. Andrew Square): Edinburgh's central bus station, located in St. Andrew Square, connects the city to various destinations within Scotland and the rest of the UK. National Express and other bus companies operate services to and from Edinburgh.
By Car:
If you're driving, you can reach Edinburgh via the major motorways, including the M8 from Glasgow in the west, the M9 from Stirling and the north, and the A1 from the south.
By Ferry:
If you're arriving from Northern Ireland, there are ferry services from Belfast to Larne or Cairnryan on the west coast of Scotland. From there, you can drive or take a bus to Edinburgh.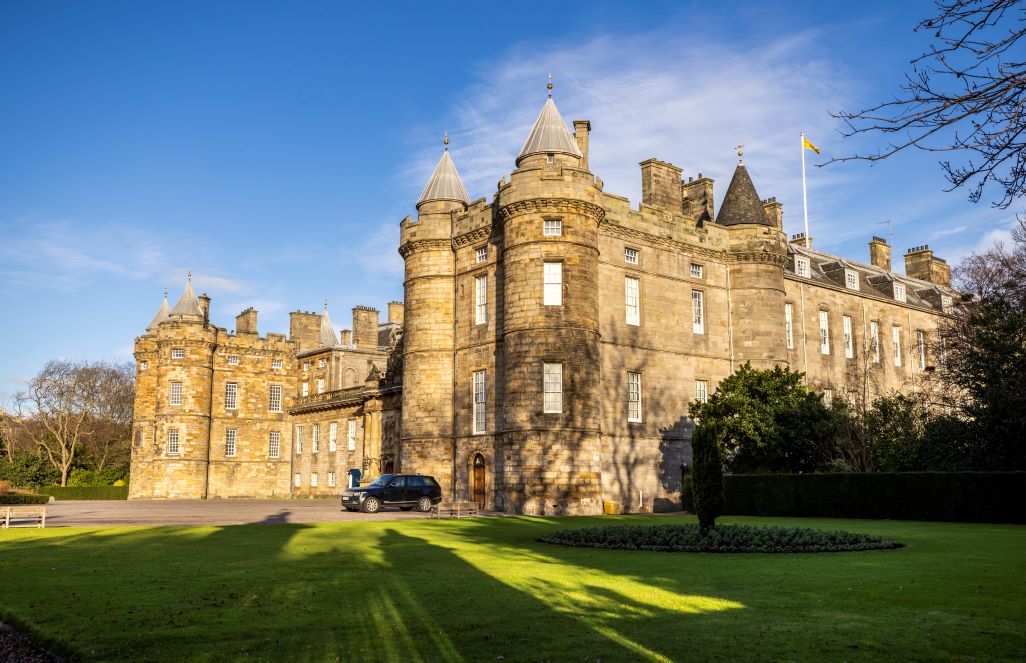 Edinburgh offers a wealth of attractions, including the historic Edinburgh Castle, the picturesque Royal Mile, and cultural festivals like the Edinburgh Festival Fringe.
Edinburgh offers a wide range of tours that cater to various interests. There's something for everyone, from historical walking tours of the Old Town and visits to iconic sites, climb Arthur's Seat, walk from CanonMills to the Gallery of modern Art along the famous Water of Leith. You can also enjoy whisky-tasting tours, literary tours celebrating the city's famous writers, and guided hikes up Arthur's Seat for panoramic views. These tours provide engaging and informative ways to experience the city's history, culture, and natural beauty.

Things to do

Edinburgh Castle, perched atop an ancient volcanic rock, is a historic fortress and iconic symbol of Scotland. It is renowned for its rich history, housing the Crown Jewels of Scotland and the Stone of Destiny. Visitors can explore its well-preserved architecture and military heritage and enjoy panoramic views of the city from its strategic location, making it a must-visit attraction in Edinburgh.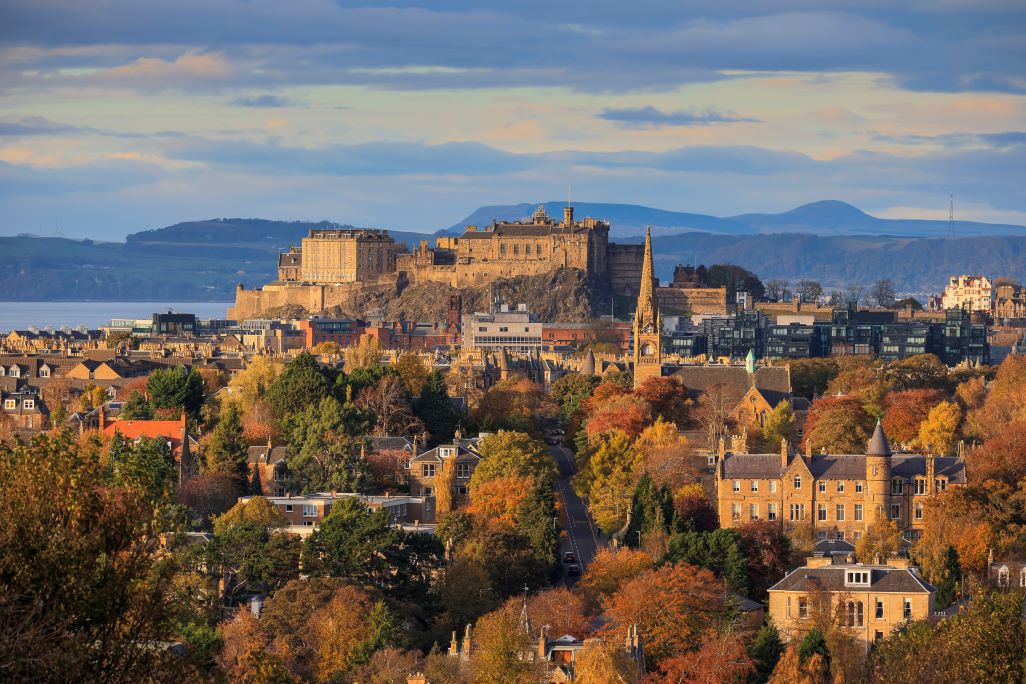 The Royal Mile is a bustling historic street that stretches through the heart of Edinburgh's Old Town. Lined with shops, pubs, and historic sites, it connects Edinburgh Castle to the Palace of Holyroodhouse. Visitors can stroll along its cobblestone streets, taking in the vibrant atmosphere, explore landmarks like St. Giles' Cathedral and enjoy street performances, making it a deep and culturally rich hub in the city.

The National Museum of Scotland
The National Museum of Scotland in Edinburgh is a history and culture treasure trove. It houses an extensive collection of artefacts and exhibits spanning natural history, science, technology, art, and world cultures. Visitors can explore everything from dinosaur fossils to ancient Egyptian mummies, innovative inventions, and exquisite artworks. The museum offers a captivating journey through the ages, making it a must-visit destination for those interested in the world's diverse heritage and the wonders of science.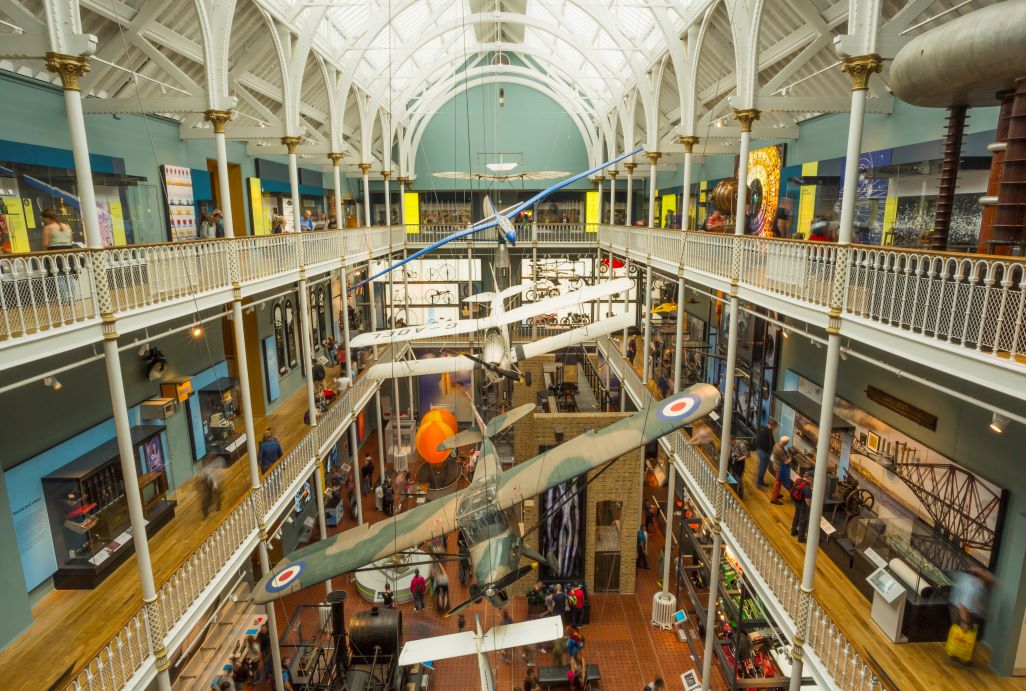 The Edinburgh Festival Fringe, often called the Fringe, is the world's largest arts festival. Held annually in Edinburgh, Scotland, it features thousands of performances across various genres, including comedy, theatre, music, and more. The Fringe is known for its open-access policy, allowing artists from around the globe to showcase their talents. It transforms the city into a creative and vibrant hub, attracting artists, performers, and art enthusiasts. It is a must-visit event for those seeking a diverse and dynamic cultural experience.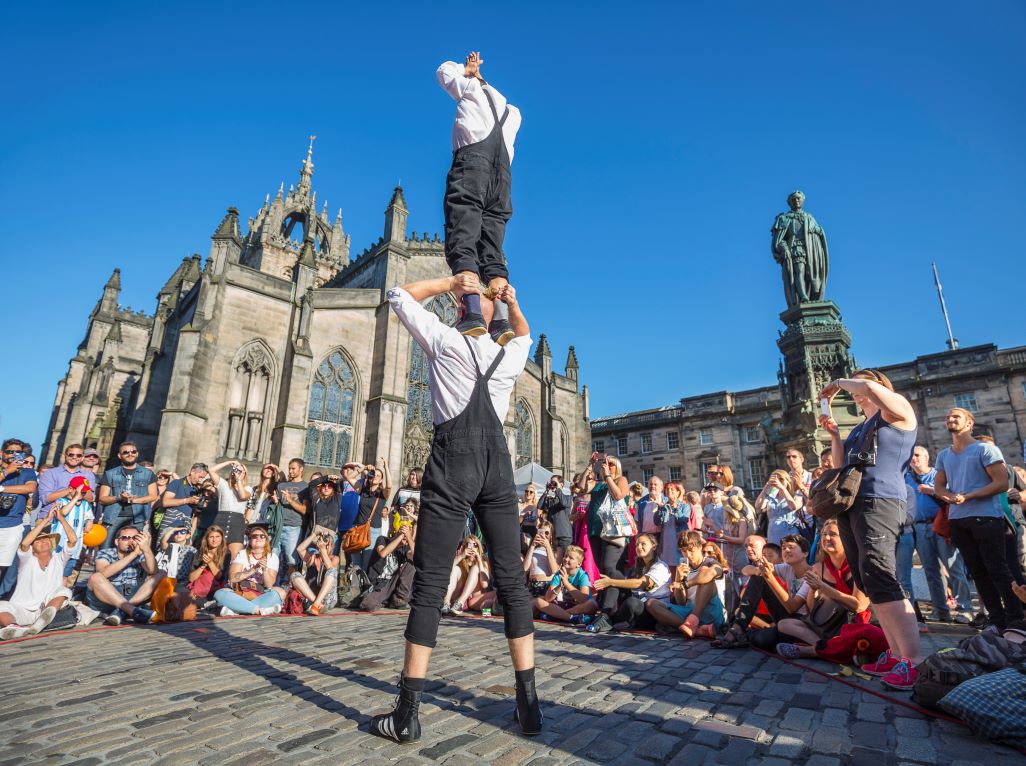 The Palace of Holyroodhouse, commonly known as Holyrood Palace, is the official residence of the British monarch in Scotland. Located at the end of the Royal Mile in Edinburgh, this historic palace is famous for its stunning architecture and beautiful gardens. Visitors can explore its lavishly decorated rooms, discover its royal history, and enjoy the picturesque surroundings, including the adjacent Holyrood Park, making it a fascinating and regal attraction in Edinburgh.
The Royal Yacht Britannia is a historic and iconic ship located in Leith, Edinburgh. It served as the official yacht of the British Royal Family for over 40 years, sailing more than a million miles around the world. Today, it is a popular tourist attraction and museum, allowing visitors to explore the elegant interiors, learn about the yacht's royal history, and experience a glimpse into the life of the British monarchy. The Royal Yacht Britannia offers a fascinating journey through maritime and royal heritage, making it a must-visit destination in Edinburgh.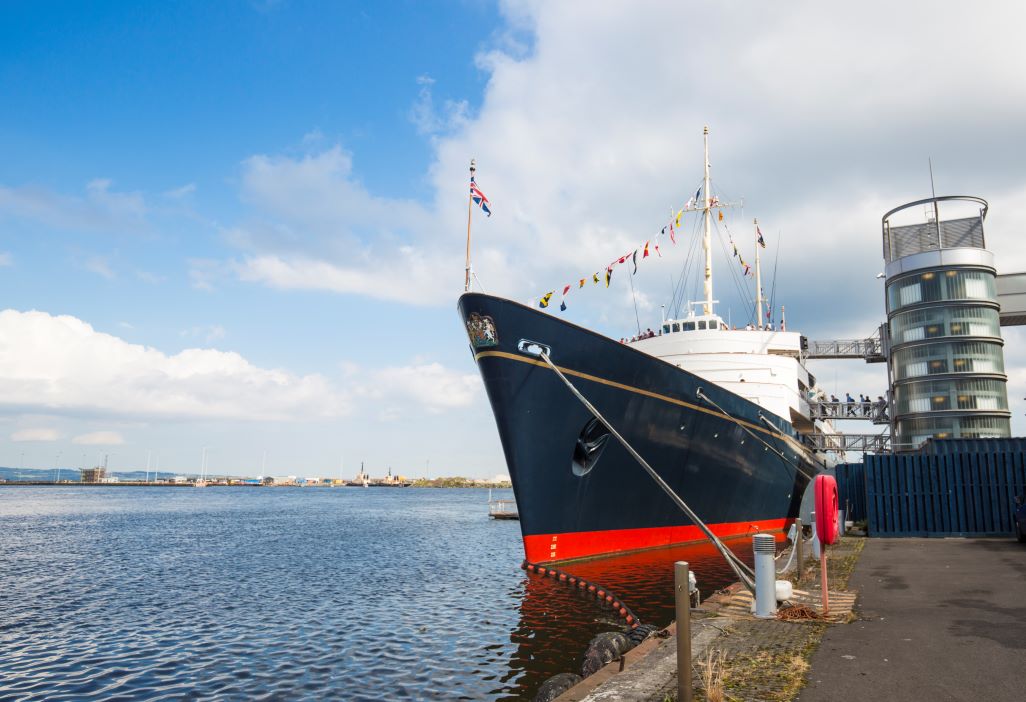 Places to Stay
Accommodation in Edinburgh ranges from luxurious hotels with stunning city views and historic boutique guesthouses in the Old Town to budget-friendly hostels and vacation rentals. Visitors can find various options to suit their preferences and budgets, ensuring a comfortable stay while exploring this captivating Scottish city.

Crescent House offers a tranquil sanctuary for those attending Edinburgh's vibrant festivals, providing a peaceful respite from the city's lively atmosphere. Whether you're in town for business or leisure, Crescent House caters to all travellers. With three exquisite rooms offering stunning panoramic rooftop vistas, each equipped with a well-appointed en-suite bathroom and luxurious amenities synonymous with top-tier hotels, your stay promises to be nothing short of exceptional.

This modern studio apartment is an ideal urban retreat for immersing yourself in the Edinburgh experience, offering all the conveniences you'd expect while residing in the heart of Scotland's capital. Nestled within the garden enclave of a detached Victorian villa, you'll enjoy the utmost privacy thanks to exclusive access, allowing you to come and go at your leisure.
"The Witchery by the Castle" is a renowned and luxurious boutique hotel in Edinburgh, Scotland. Located in a historic building just steps from the iconic Edinburgh Castle, The Witchery offers a unique and romantic experience. The hotel is known for its opulent and theatrical decor, with each room individually designed to create a sense of Gothic grandeur. Its candlelit dining room serves exquisite Scottish cuisine in a captivating atmosphere. The Witchery is a favourite choice for couples and those seeking a memorable and indulgent stay in the city's heart.
Virgin Hotel in Edinburgh is in the historic Old Town Edinburgh district, a charming historic neighbourhood. This prime location places it near a train station for convenient access. Nearby, you'll discover cultural gems like Usher Hall and Edinburgh Playhouse Theatre, showcasing the city's vibrant arts scene. Additionally, the surrounding area boasts iconic landmarks such as Grassmarket and the Royal Mile, where centuries of Scottish heritage come to life. Ensure you visit the renowned Edinburgh Zoo in your itinerary to complete your Edinburgh experience.
The Grosvenor is a historic and distinguished hotel in the heart of Edinburgh, known for its classic elegance and exceptional service. Situated in the city's West End, it offers a prime location for exploring Edinburgh's cultural and architectural treasures, including nearby attractions like the Edinburgh Castle and Princes Street Gardens. The Grosvenor is celebrated for its timeless charm, comfortable accommodations, and amenities. It is famous for leisure and business travellers seeking a luxurious and convenient stay in Scotland's capital.

The Roseate Edinburgh is an upscale boutique hotel in the heart of Edinburgh's New Town. Known for its elegant and contemporary design, this luxury hotel offers guests a refined and welcoming atmosphere. The Roseate Edinburgh features well-appointed rooms, a sophisticated dining experience at the onsite restaurant, and an intimate bar. Its central location makes it an ideal base for exploring the city's cultural and historical attractions. At the same time, its stylish ambience provides a comfortable and indulgent retreat for travellers seeking luxury in Edinburgh.
Places to Eat
The Scran & Scallie:
This gastropub, co-owned by renowned chef Tom Kitchin, offers a relaxed and family-friendly atmosphere. It's known for serving high-quality, locally sourced Scottish dishes, including classic pub fare with a gourmet twist.
The Witchery by the Castle:
Located near Edinburgh Castle, The Witchery is an iconic and romantic restaurant known for its historic ambience. It offers a menu featuring Scottish and British cuisine in a lavish and atmospheric setting.
The Stockbridge Restaurant:
Tucked away in the charming Stockbridge neighbourhood, this restaurant focuses on contemporary Scottish cuisine. It's celebrated for its seasonal menus and intimate dining experience.
El Cartel Mexicana:
El Cartel is a popular choice if you're in the mood for Mexican cuisine. They serve delicious tacos, nachos, and other Mexican street food in a vibrant and lively setting.
The Gardener's Cottage:
Set in a picturesque cottage in Royal Terrace Gardens, this restaurant follows a farm-to-table concept. The menu changes frequently to feature the freshest local ingredients, and communal dining enhances the unique experience.
Things to do with Kids

Edinburgh Castle:
Explore the historic Edinburgh Castle, perched on Castle Rock. Kids will be fascinated by the ancient fortress, cannons, and the Stone of Destiny. The castle often hosts special events and historical reenactments that can be fun and educational.
Edinburgh Zoo:
Edinburgh Zoo has many animals, including pandas, penguins, and koalas. Kids can enjoy daily animal feedings, educational talks, and interactive exhibits. Take advantage of the famous penguin parade.
Dynamic Earth:
Dynamic Earth is an interactive science museum that takes visitors on a journey through the history of our planet. It's a hands-on experience with 3D shows, interactive exhibits, and a chance to explore Earth's geological past and future.
Camera Obscura and World of Illusions:
This quirky attraction in the city's heart offers optical illusions, mind-bending puzzles, and a rooftop Camera Obscura that provides panoramic views of Edinburgh. Kids will be entertained and amazed by the interactive exhibits.
Arthur's Seat and Holyrood Park:
Take a family hike up Arthur's Seat, an extinct volcano in the centre of Edinburgh. It's a relatively easy climb with rewarding city views from the top. Holyrood Park also offers opportunities for picnics and outdoor exploration.
Edinburgh is a city that seamlessly blends its rich history with a vibrant cultural scene. Whether you're exploring its historical sites, enjoying its festivals, or savouring its natural beauty, Edinburgh promises an unforgettable experience. This Scottish gem is ready to welcome travellers worldwide with a range of accommodation options to suit every budget.