Isle of Harris: Scotland's Hidden Paradise
When it comes to picturesque landscapes, rich cultural heritage, and an atmosphere of tranquillity, the Isle of Harris in Scotland stands out as a hidden gem worth exploring. Located in the Outer Hebrides, this remote island offers a unique blend of natural beauty and vibrant culture that will captivate your heart and soul. Harris is renowned for its dramatic and breathtaking scenery, and as soon as you step foot on the island, you'll understand why. Every corner of Harris offers a postcard-worthy view, from rugged coastlines to rolling hills and pristine white sand beaches.
Harris is famous for its exquisite craftsmanship, most notably the Harris Tweed. This handwoven fabric carries a rich history and tradition, and you can witness the meticulous weaving process at the Harris Tweed Hebrides Mill. Be sure to pick up a piece of this iconic textile as a souvenir. Harris is part of the Outer Hebrides archipelago, and you can arrange boat trips to explore nearby islands like Lewis, Berneray, and Scalpay.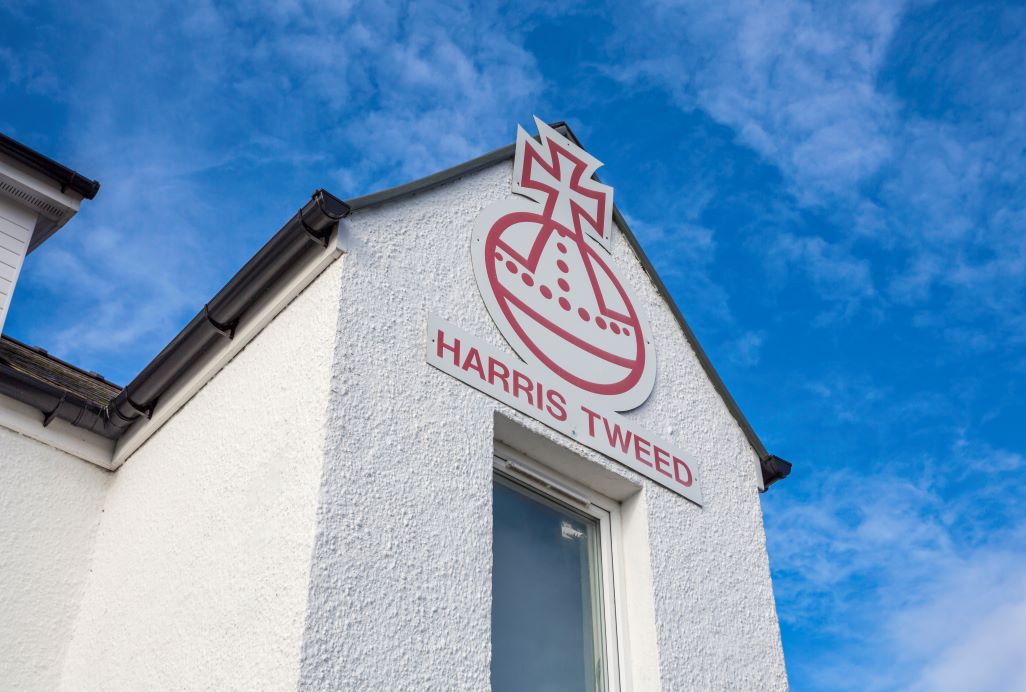 How to get there
The Isle of Harris is a beautiful island in the Outer Hebrides of Scotland. To get to the Isle of Harris, you will typically need to travel to the nearby Isle of Lewis, as they are connected by road. Here's how to get to the Isle of Harris:
By Air:
The closest airport to the Isle of Harris is Stornoway Airport (SYY) on the neighbouring Isle of Lewis. You can fly to Stornoway Airport from major Scottish airports such as Glasgow International Airport (GLA) or Inverness Airport (INV). You can rent a car from Stornoway Airport or take a bus to the ferry terminal (see the next step).
By Ferry:
From the Isle of Lewis (Stornoway), you can take a ferry to the Isle of Harris. The main ferry terminal on Lewis for this journey is Tarbert. CalMac Ferries operates these routes, and you can check their website for schedules and reservations.
By Car:
If you plan to bring a car to the Isle of Harris, you can either drive to Ullapool on the Scottish mainland, take a train to Inverness, and then drive to Ullapool. From Ullapool, you can catch a CalMac ferry to Stornoway on the Isle of Lewis. Once on Lewis, follow the road to Tarbert on the Isle of Harris.
By Bus:
You can take a bus from Inverness or other Scottish cities to Ullapool and then follow the same ferry route to Stornoway and onwards to Harris.
Things to do
Isle of Harris Sea Tours offers a thrilling and scenic adventure along the stunning coastline of the Isle of Harris. Expect a memorable journey as you cruise through pristine waters, discovering hidden sea caves, dramatic cliffs, and picturesque beaches. These tours often provide opportunities to spot local wildlife, including seals, dolphins, and seabirds. With knowledgeable guides and comfortable vessels, Isle of Harris Sea Tours ensures an immersive and informative experience, allowing you to connect with the island's natural beauty and rich marine life uniquely.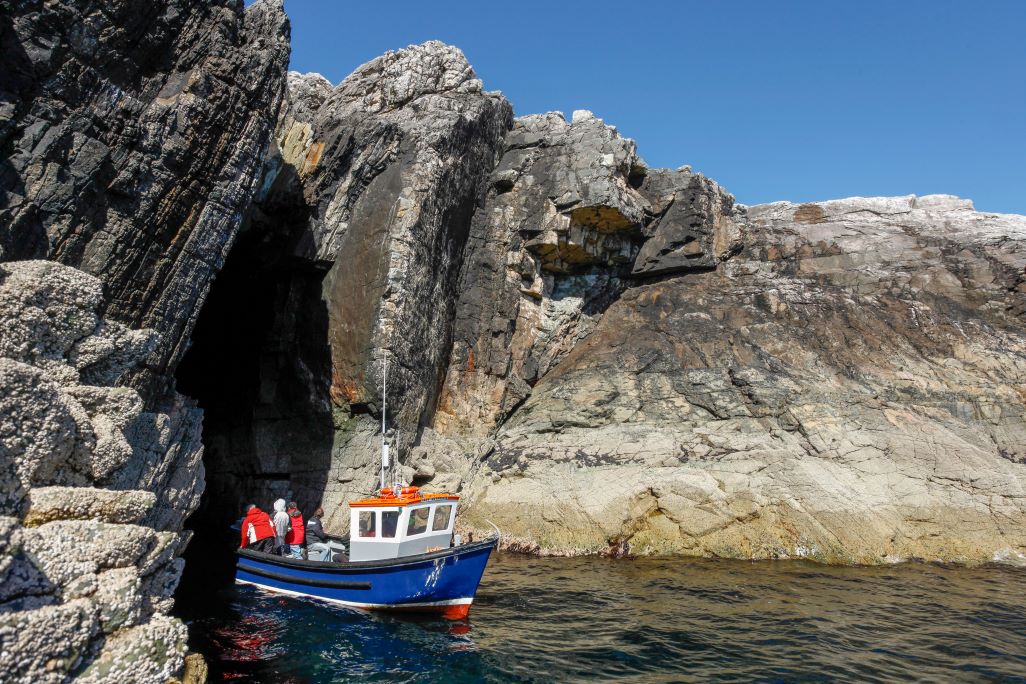 Luskentyre Beach is a paradise of soft, powdery white sands and stunning turquoise waters. Expect to be awestruck by the sheer beauty of this beach, perfect for strolls, picnics, and photography. The tranquil atmosphere and breathtaking vistas make it a must-visit destination for those seeking natural serenity and postcard-perfect scenery.
The Callanish Stones, on the Isle of Harris, are a mesmerising collection of Neolithic standing stones. Expect an enchanting visit filled with ancient mystique as you explore these intriguing stones, which form a stone circle with a central monolith. These mysterious monuments, dating back to around 3000 BC, are steeped in history and legends, making them a captivating destination for history enthusiasts and those seeking a sense of wonder.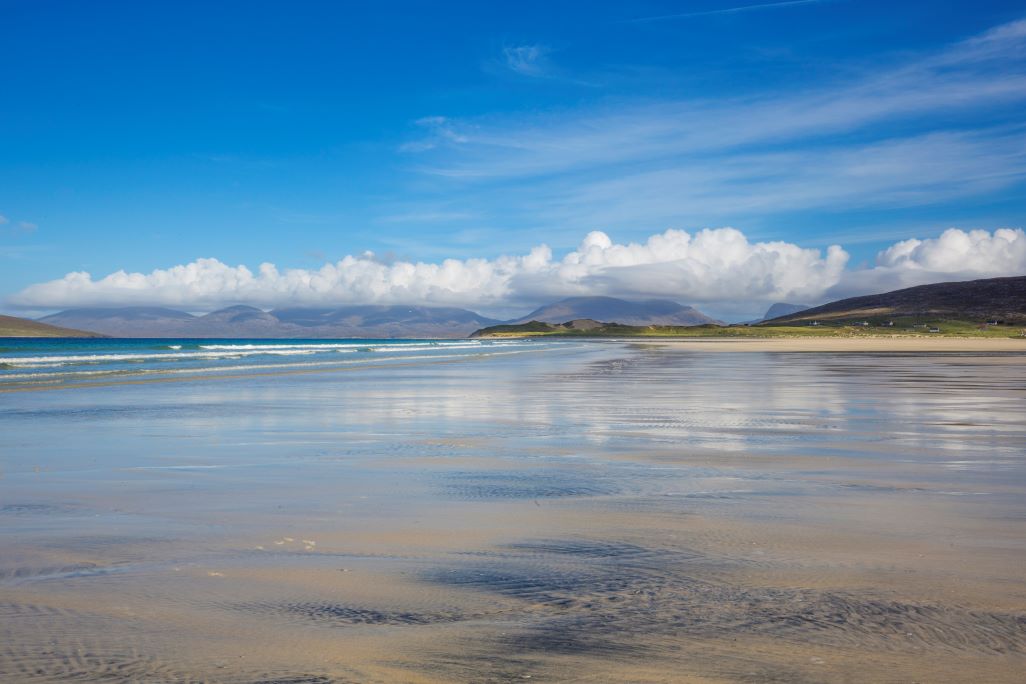 St. Clement's Church, located in Rodel on the Isle of Harris, is a beautifully preserved mediaeval church with historical charm. Expect to be captivated by its intricate stone carvings, stunning architecture, and rich history. This picturesque church, built in the late 15th century, offers a glimpse into the island's past and provides a peaceful atmosphere for reflecting and appreciating its cultural significance.

The Isle of Harris Distillery is a renowned attraction on the Isle of Harris, Scotland. This distillery offers visitors an immersive experience in the world of artisanal gin-making. Expect an informative and engaging tour where you'll learn about the craft of distillation, followed by a delightful tasting session featuring their award-winning Harris Gin. The distillery is a modern architectural gem nestled amidst the island's rugged beauty, making it a must-visit for spirits enthusiasts and those seeking a taste of the island's essence.
The Golden Road is a scenic route along the east coast of the Isle of Harris in Scotland. Travellers can expect a breathtaking drive through a landscape of rugged cliffs, pristine beaches, and dramatic seascapes. The road's name is derived from its construction cost, as it was built in the 19th century to provide access to remote communities, hence the "gold" in the name. Along this winding coastal road, you'll encounter stunning vistas, charming villages, and opportunities for outdoor exploration, making it a must-visit for those seeking to immerse themselves in the natural beauty of Harris.
Places to Stay
Scarista House is an exquisite boutique hotel on the Isle of Harris, Scotland. Expect a luxurious and tranquil retreat when you stay here. Overlooking the pristine Scarista Beach, this historic manor offers elegant rooms, gourmet dining, and stunning sea views. Whether you're seeking a romantic getaway or a peaceful escape, Scarista House provides an idyllic setting to relax, unwind, and immerse yourself in the serene beauty of Harris.
Tigharry Schoolhouse on the Isle of Harris is a charming, cosy, self-catering cottage. Expect a delightful stay in this traditional accommodation, where modern amenities meet rustic charm. Perfect for a quiet getaway, the Tigharry Schoolhouse offers comfort and a homey atmosphere, making it an ideal base for exploring the island's natural beauty and cultural treasures.
Finsbay Cottages on the Isle of Harris are a collection of charming self-catering cottages set amidst the island's rugged beauty. These cottages offer a cosy and comfortable retreat, often with traditional Scottish architecture and modern amenities. Expect a peaceful and picturesque setting, making Finsbay Cottages an excellent choice for those seeking a tranquil escape while still having convenient access to Harris's natural wonders and cultural attractions.
New Haven Bed and Breakfast is a welcoming and cosy accommodation option on the Isle of Harris. Expect a warm Scottish hospitality experience, comfortable rooms, and a delicious breakfast to start your day. This charming B&B provides a comfortable and convenient base for exploring the island's natural beauty and cultural treasures while enjoying the comforts of a home away from home.
Seaside Cottage is a delightful coastal accommodation on the picturesque Isle of Harris. With its idyllic location by the sea, you can expect stunning ocean views, the soothing sound of waves, and a tranquil atmosphere. This charming cottage offers a cosy and comfortable retreat. It is ideal for those seeking a peaceful getaway with direct access to the island's pristine beaches and natural beauty.
Places to Eat
The Anchorage Restaurant (Tarbert):
Anchorage is well-known for its delicious seafood dishes, including fresh catches of the day and creative preparations of local produce. It's a great place to enjoy seafood in a cosy waterfront setting.
Scarista House (Scarista):
Scarista House is a boutique hotel with a renowned restaurant. It's famous for its gourmet dining experience, with a menu featuring locally sourced ingredients, including Harris lamb and seafood. The setting overlooking the Atlantic Ocean is picturesque.
Talla na Mara Café (Niseaboist):
Talla na Mara, which means "Hall by the Sea" in Gaelic, offers a casual dining experience focusing on locally produced food. The café serves various dishes, including soups, sandwiches, and cakes, and often hosts community events.
Hotel Hebrides Restaurant (Tarbert):
Hotel Hebrides offers a restaurant serving a diverse menu with various options, including seafood, Scottish classics, and international cuisine. It's a good choice for families with different tastes.
Borvemor Cottages Tea Room (Borve):
This charming tea room at Borvemor Cottages offers homemade cakes, sandwiches, and hot drinks. It's an ideal place for a relaxing break while exploring the island.
Things to do with Kids
Beach Adventures:
Harris is renowned for its beautiful beaches with soft white sands and clear turquoise waters. Luskentyre Beach, Scarista Beach, and Seilebost Beach are some of the most picturesque. Kids can build sandcastles, paddle in the shallow waters, and explore the shorelines.
Nature Walks and Hikes:
Harris offers numerous walking and hiking trails suitable for families. The terrain is generally gentle, and you can explore the island's rugged coastline, hills, and lochs. Check out the Golden Road, a scenic drive with plenty of stops for exploring.
Seabird Watching:
The cliffs and coastline of Harris are home to various seabirds, including puffins, guillemots, and razorbills. You can take your kids on bird-watching excursions to spots like the cliffs at Toe Head or St Kilda (via boat trip).
Boat Trips:
Consider taking a boat trip with your kids to explore the waters around Harris. There are options for wildlife watching, including dolphins, seals, and sea eagles. You can also take a boat to visit nearby islands like Scalpay.
Exploring Historic Sites:
While Harris is primarily known for its natural beauty, there are some interesting historical sites to explore with kids. For example, visit St. Clement's Church in Rodel with its mediaeval tombs and intricate carvings.
The Isle of Harris is a destination that transcends your typical travel experience. Its unmatched beauty, rich heritage, and warm hospitality create an enchanting atmosphere that will leave you lasting memories. Whether exploring ancient ruins, relaxing on pristine beaches, or savouring locally crafted gin, Harris offers a slice of paradise waiting to be discovered. Plan your trip, and let the magic of this Scottish gem unfold before your eyes.