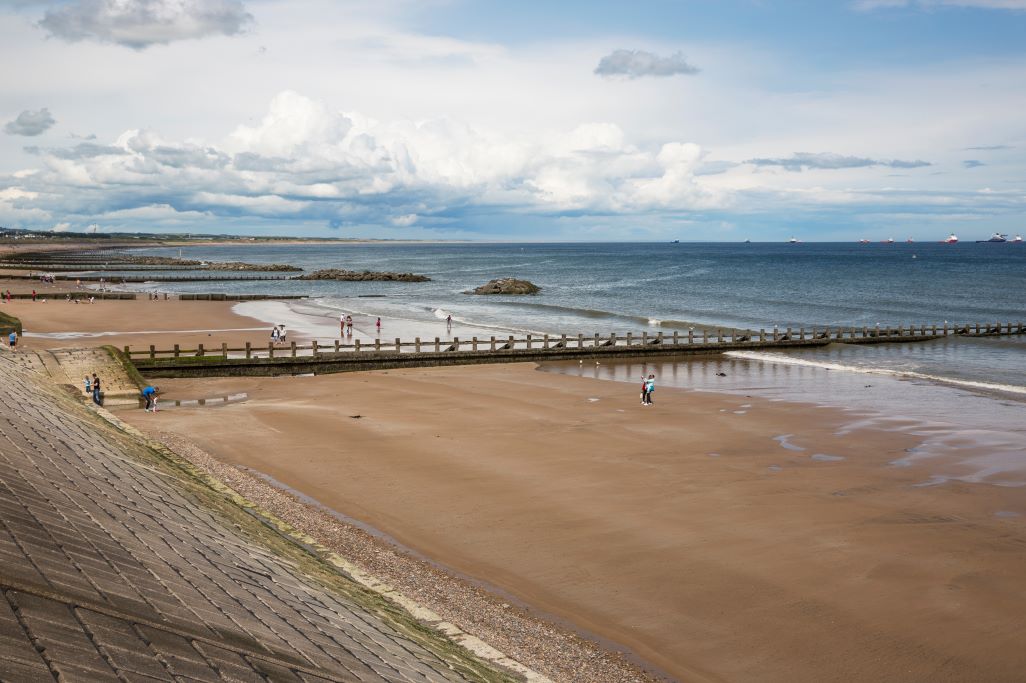 Discover Aberdeen: Scotland's Granite City
Aberdeen, called the "Granite City," is a vibrant and historic destination on Scotland's northeast coast. Known for its stunning architecture, rich maritime heritage, and welcoming locals, Aberdeen is a city that effortlessly blends tradition with modernity. Aberdeen is Scotland's third-largest city, offering a unique blend of culture, history, and natural beauty. Its striking grey stone buildings, constructed from locally quarried granite, lend the city its distinctive character. Aberdeen has a solid connection to the North Sea and is a significant oil and gas industry hub, contributing to its cosmopolitan atmosphere. Aberdeen's stunning granite architecture is renowned worldwide. The city's buildings, including Marischal College, boast intricate details and ornate designs, making it a paradise for architecture enthusiasts. Scotland is famous for its whisky, and Aberdeen is no exception. You can explore the region's whisky heritage by visiting nearby distilleries.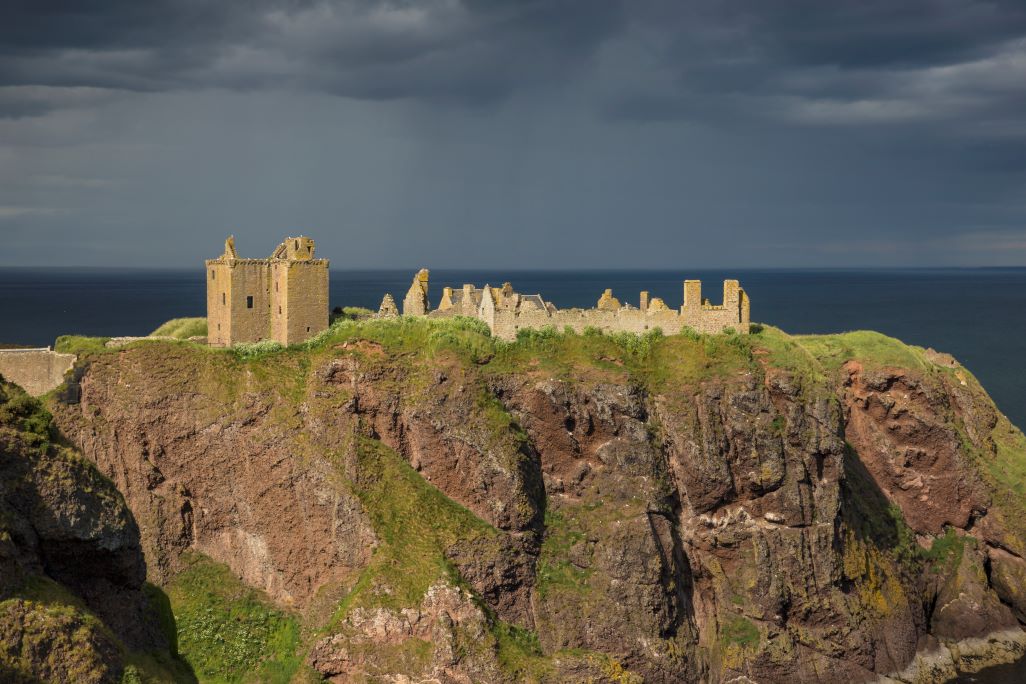 How to get there
Aberdeen is a major city in Scotland, and it's well-connected by various modes of transportation, including train, bus, car, and air. The best way to get to Aberdeen depends on your starting point and preferences. Here are some common ways to reach Aberdeen:
By Train:
Aberdeen has a central train station, Aberdeen Railway Station, which is well-connected to cities like Edinburgh, Glasgow, Inverness, and other parts of Scotland. You can take a train from major Scottish cities to Aberdeen. The journey time varies depending on your starting point but is typically around 2-3 hours from Edinburgh and Glasgow.
By Bus:
National Express and other bus companies operate services to Aberdeen from various cities across the UK. The main bus terminal in Aberdeen is the Union Square Bus Station. Bus travel may take longer than trains, depending on your starting point.
By Car:
You can reach Aberdeen by taking the A90 road from the south or north if you're driving. The city is well-connected to the Scottish road network. From Edinburgh, it's approximately a 2.5 to 3-hour drive, while Glasgow takes around 3 to 3.5 hours.
By Air:
Aberdeen has an international airport, Aberdeen International Airport (ABZ). You can fly to Aberdeen from various UK and international destinations. The airport is about 7 miles (11 km) northwest of the city centre. From the airport, you can take a taxi, shuttle bus, or public transport into the city.
By Ferry:
If you're travelling from the Shetland Islands, ferry services connect Lerwick (Shetland) to Aberdeen. NorthLink Ferries operates this route.
Marischal College, this iconic granite building, houses the headquarters of Aberdeen City Council. It is the second-largest granite building in the world. This magnificent structure is renowned for its intricate design, including towers, spires, and ornate detailing. It is a must-visit destination for architecture enthusiasts and a significant cultural landmark in Aberdeen.
Things to do
The Aberdeen Maritime Museum, situated in the heart of Aberdeen, Scotland, is a captivating institution that delves into the city's rich maritime history. Visitors can explore Aberdeen's deep-rooted connection to the North Sea, its role in the oil and gas industry, and the maritime heritage that has shaped the city through interactive exhibits and an extensive collection of artefacts. This museum offers a fascinating journey into seafaring, making it a must-visit destination for those interested in maritime culture and history.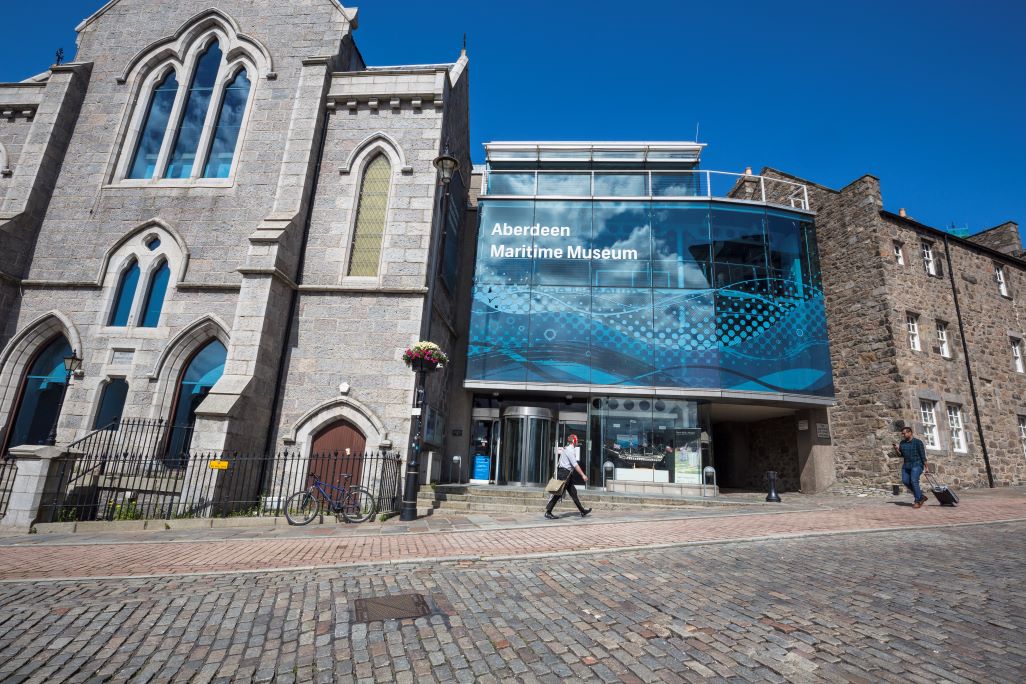 Duthie Park is a verdant oasis offering respite from the hustle and bustle of city life. This beautiful park is renowned for its serene ambience and features the spectacular David Welch Winter Gardens, home to an impressive array of plants from around the globe. Visitors can explore meticulously landscaped gardens, tranquil ponds, and scenic pathways, making Duthie Park an ideal spot for strolls, picnics, and outdoor relaxation. Whether you're an avid botanist or simply seeking a tranquil escape, Duthie Park's natural beauty and diverse flora make it a beloved destination for all.
Aberdeen Art Gallery, situated in the city's heart, is a cultural treasure trove showcasing a diverse collection of centuries of art. This dynamic institution is celebrated for its impressive array of paintings, sculptures, decorative arts, and contemporary works. It features a rich tapestry of Scottish and international art, making it a captivating destination for art enthusiasts and history buffs. The gallery's elegant architecture and well-curated exhibitions create an immersive experience, inviting visitors to explore the world of artistic expression and creativity within Aberdeen's vibrant cultural scene.
Footdee, affectionately known as "Fittie" by locals, is a charming fishing village in Aberdeen. This picturesque enclave offers a delightful step back with its quaint cottages, narrow cobblestone streets, and timeless beauty. Stroll through the colourful seaside village to discover a community steeped in maritime heritage. Footdee is a hidden gem that provides a peaceful escape from the city's hustle and bustle, offering visitors a chance to soak up the serene atmosphere, admire the unique architecture, and enjoy views of the North Sea. It's a place where history and tranquillity converge, making it a must-visit destination for those exploring Aberdeen's coastal charm.
Craigievar Castle, located in Aberdeenshire, Scotland, is a stunning example of a fairy-tale castle. This pink-hued gem is renowned for its picturesque turrets and enchanting appearance, making it a popular attraction for visitors. Built in the 17th century, Craigievar Castle is a perfect example of Scottish Baronial architecture. It features intricately carved stonework, crow-stepped gables, and a steeply pitched roof. The castle's interiors offer a glimpse into the past, with period-appropriate furnishings and artwork.
Places to Stay
Aberdeen offers various accommodation options to suit every traveller's preference and budget. There's something for everyone, from luxurious hotels to cosy bed and breakfasts.
Cedars Guest House, nestled in the heart of Aberdeen, is a welcoming haven for travellers seeking comfort and convenience. This charming guesthouse offers a warm and friendly atmosphere, making guests feel at home. Cedars Guest House provides well-appointed rooms designed with your comfort in mind. You can start your day with a delicious breakfast served in a cosy dining area, setting the tone for a day of exploration in Aberdeen.
The Chester Hotel in Aberdeen is a luxurious and stylish retreat where modern elegance meets traditional Scottish charm. This boutique hotel offers a refined and sophisticated experience for discerning travellers.Guests at The Chester Hotel can indulge in spacious and well-appointed rooms adorned with contemporary decor and top-notch amenities. The hotel's renowned restaurant, IX, serves exquisite cuisine prepared with locally sourced ingredients, creating a memorable dining experience.
The Sandman Signature Aberdeen Hotel is a contemporary urban oasis in the heart of Aberdeen, Scotland. Its sleek and modern design offers leisure and business travellers a stylish and comfortable retreat. This upscale hotel features well-appointed rooms and suites designed for relaxation and convenience. Guests can savour delectable cuisine at the hotel's restaurant and unwind with a drink at the bar.
The Carmelite Hotel is a charming boutique hotel in the heart of Aberdeen. Known for its unique and stylish atmosphere, it blends contemporary design and classic Scottish charm. The hotel features comfortable rooms and suites with modern amenities, making it an attractive choice for business and leisure travellers. One of its notable highlights is its lively bar scene, making it a popular spot for socialising and enjoying cocktails. The Carmelite Hotel's central location provides easy access to Aberdeen's attractions, shopping, and dining options, making it a convenient and inviting place to stay while exploring the city.
The Aberdeen Douglas Hotel is historic and well-established in the city centre. It is known for its classic Scottish charm and combines tradition and modern comfort. The hotel provides guests a comfortable and inviting atmosphere, with various room options to suit different needs. Its central location makes it convenient for business and leisure travellers, as it is within easy reach of Aberdeen's key attractions, shopping districts, and dining establishments. The Aberdeen Douglas Hotel has a rich history and is a popular choice for those looking for a comfortable and well-located place to stay in Aberdeen.
Places to Eat
Moonfish Café is known for its contemporary Scottish cuisine, focusing on seafood. The menu changes frequently to reflect seasonal ingredients, and the restaurant offers a relaxed and upscale dining experience.
Located at Pocra Quay, The Silver Darling boasts stunning views of the harbour and serves various fresh seafood dishes. It's a great place to enjoy the day's catch in a modern and stylish setting.
Cafe 52 offers a diverse menu of international and Scottish dishes, emphasising locally sourced ingredients. It's a popular lunch and dinner spot known for its friendly atmosphere.
Rustico is an Italian restaurant in the heart of Aberdeen, offering a range of traditional Italian dishes. It's a family-friendly place with a warm and welcoming ambience.
Foodstory Café is a vegetarian and vegan-friendly eatery emphasising health-conscious and sustainable dining. In a cosy and artistic setting, they serve various dishes, including salads, wraps, smoothies, and homemade cakes.
Things to with Kids
Aberdeen Beach:
Aberdeen Beach is a great place to spend time with kids. It has a long sandy beach, a funfair (Codona's Amusement Park), and a leisure centre with a swimming pool. You can also stroll on the promenade, play beach games, or enjoy an ice cream.
Satrosphere Science Centre:
The Stratosphere Science Centre is an interactive science museum that offers hands-on exhibits and activities for kids of all ages. It's a fun and educational experience where children can engagingly learn about science.
Duthie Park and the David Welch Winter Gardens:
Duthie Park is spacious, with beautiful gardens, a large play area, and a boating pond. The David Welch Winter Gardens, located within the park, is a tropical paradise filled with exotic plants and butterflies, providing a unique learning experience for kids.
Aberdeen Maritime Museum:
The Aberdeen Maritime Museum is a family-friendly attraction where kids can explore the history of Aberdeen's maritime industry through interactive exhibits, models, and displays. It's both fun and educational.
Aberdeen, the Granite City, welcomes travellers with its unique charm, historic landmarks, and a modern urban vibe. Whether you're fascinated by architecture, interested in maritime history, or simply looking to explore the beauty of northeastern Scotland, Aberdeen has something to offer every visitor. Make your next trip to Scotland memorable by discovering this captivating city's cultural treasures and warm hospitality.