Glasgow: Scotland's Vibrant Urban Gem

Glasgow, Scotland's largest city, is a dynamic metropolis known for its rich history, thriving cultural scene, and warm hospitality. Located on the River Clyde, Glasgow combines industrial heritage with modern creativity, offering visitors diverse experiences. Known for its friendly and welcoming atmosphere, Glasgow combines a deep industrial estate with a modern, creative spirit, making it a captivating destination for travellers.

Glasgow offers a diverse range of attractions that cater to a wide array of interests. Whether you're a history buff, art enthusiast, music lover, or simply seeking a taste of the city's unique charm, Glasgow has something to captivate every visitor.
How to get there
Getting to Glasgow depends on your starting point and mode of transportation. Glasgow is a major city in Scotland and is well-connected by various means of transportation. Here are some common ways to get to Glasgow:
By Air:
Glasgow Airport (GLA): Glasgow Airport is a significant gateway if you're flying internationally or from other parts of the UK. It's about 8 miles (13 kilometres) west of the city centre. You can take a taxi, airport shuttle, or bus to reach the city centre from the airport.
By Train:
Glasgow Central Station: If you're travelling within the UK, Glasgow Central Station is the main railway station in the city. It frequently connects to major cities like London, Edinburgh, and Manchester.
By Bus:
Buchanan Bus Station: Glasgow's central bus station, Buchanan Bus Station, connects the city to various destinations within Scotland and the rest of the UK. National Express and other bus companies operate services to and from Glasgow.
By Car:
If you're driving, you can reach Glasgow via the M8 motorway, which connects the city to Edinburgh in the east and various other locations in the west of Scotland.
By Ferry:
If you're travelling from Northern Ireland, you can take a ferry from Belfast to Cairnryan and then drive or take a bus to Glasgow.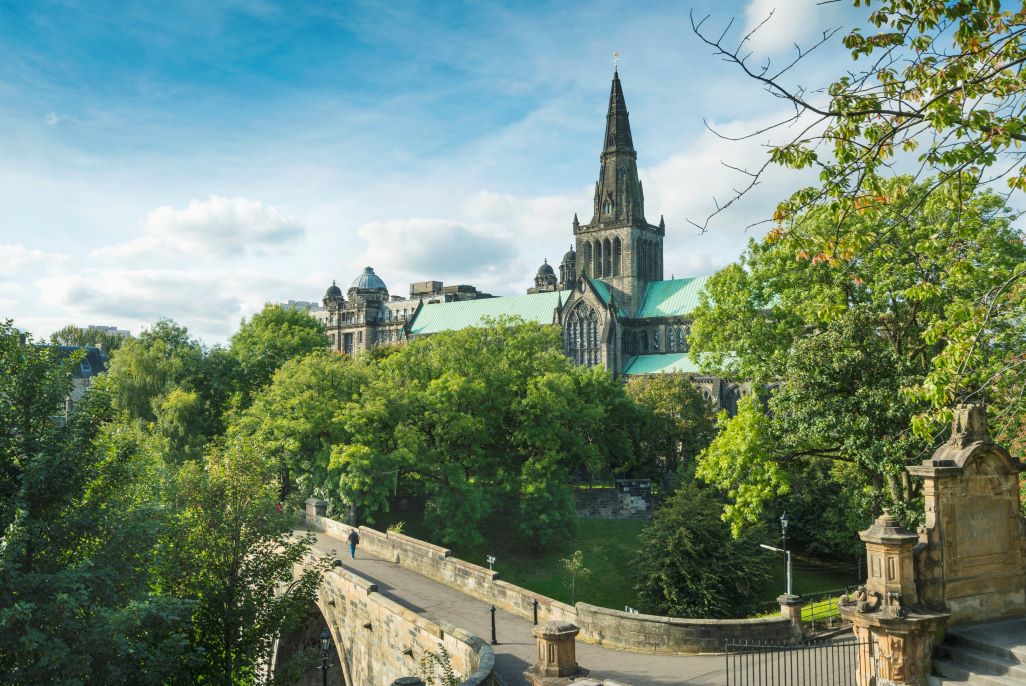 Things to do

The Riverside Museum in Glasgow is a captivating destination that immerses visitors in the history of transportation. This award-winning museum features an impressive collection of vintage vehicles, including cars, bicycles, trams, and a locomotive. With interactive displays and engaging exhibits, it offers an entertaining and educational experience for all ages. Housed in an architecturally striking building, the Riverside Museum showcases Glasgow's rich industrial heritage and innovation in transportation, making it a top attraction in the city.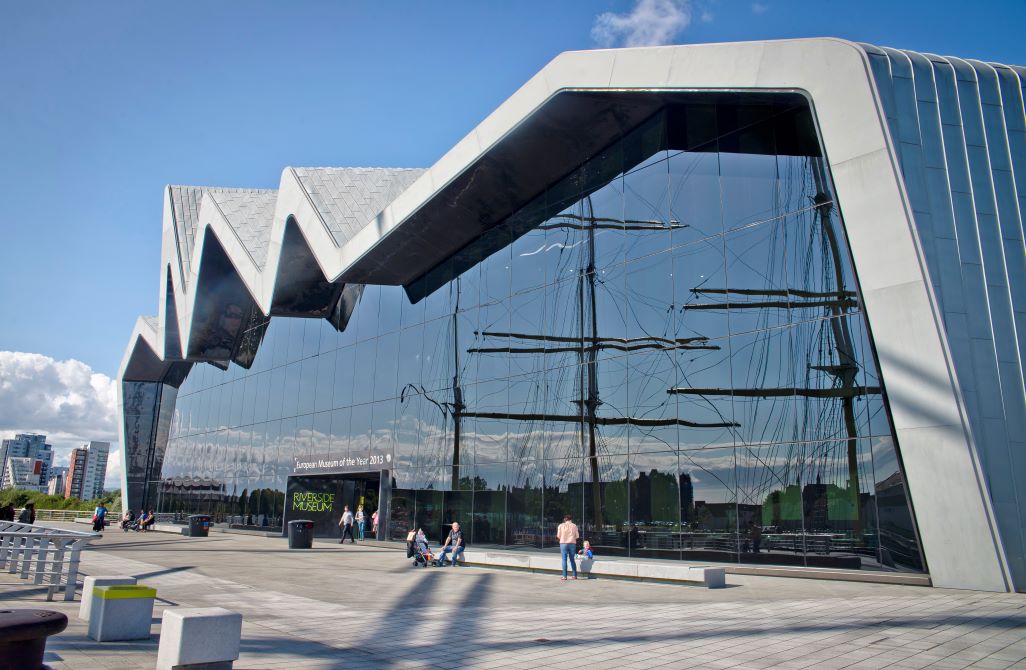 The Glasgow Science Centre is an exciting and educational destination for visitors of all ages. Located on the banks of the River Clyde, it offers hands-on interactive exhibits, a planetarium, and an IMAX cinema, providing a fun and immersive exploration of science and technology. From astronomy to physics and biology, this family-friendly centre inspires curiosity and learning in a dynamic and engaging environment, making it a perfect place for education and entertainment.

Glasgow Cathedral is a breathtaking example of Gothic architecture, dating back to the 12th century. It is a magnificent symbol of Glasgow's rich history and religious heritage. Visitors can explore its awe-inspiring interiors, adorned with stunning stained glass windows and intricate stone carvings, and discover the historical significance of this iconic place of worship. Perched atop a hill overlooking the city, the Glasgow Cathedral offers a peaceful and culturally enriching experience for all who visit.

Kelvingrove Art Gallery and Museum
The Kelvingrove Art Gallery and Museum in Glasgow is a cultural gem housing an extensive collection of art and historical artefacts. Situated in a stunning Spanish Baroque-style building, it offers diverse exhibits, from classic paintings to ancient relics and natural history displays. With its grand architecture and engaging exhibitions, Kelvingrove is a must-visit destination for art and history enthusiasts, providing a rich cultural experience in the heart of Glasgow.
Accommodation options in Glasgow are diverse and cater to various budgets and preferences. From upscale hotels with stunning city views to charming boutique guesthouses and budget-friendly hostels, Glasgow offers a range of places to stay. Whether you're seeking luxury, convenience, or a cosy atmosphere, Glasgow's accommodations provide comfortable bases for exploring the city's vibrant culture, history, and attractions.
Places to Stay

The Grasshoppers Hotel in Glasgow is a boutique gem in the city's heart. Known for its personalised service and stylish design, it offers travellers a comfortable and welcoming retreat. Its prime location provides easy access to Glasgow's vibrant cultural scene and top attractions. The Grasshoppers Hotel is a chic and intimate choice for those seeking a memorable and cosy stay in Scotland's largest city.
The Alamo Guest House in Glasgow is a charming and welcoming accommodation choice. Nestled in a convenient location near the Kelvingrove Art Gallery and Museum, it offers comfortable rooms and a cosy atmosphere. With its friendly hospitality and proximity to cultural attractions, the Alamo Guest House provides a delightful base for exploring the vibrant city of Glasgow.
Number 10 Hotel in Glasgow is a charming boutique B&B in the heart of the city's Southside. This elegant Victorian townhouse offers a cosy and stylish retreat for guests. Beautifully designed rooms, a tranquil garden, and a warm atmosphere provide a peaceful escape while close to Glasgow's vibrant city centre.
Smiths Hotel in Glasgow is a family-run accommodation known for its friendly atmosphere and affordability. Located in the city's heart, it offers comfortable rooms, making it an excellent choice for budget-conscious travellers. With its central location, guests can easily access Glasgow's attractions, dining, and entertainment options, ensuring a convenient and enjoyable stay in Scotland's largest city.
The Clayton Hotel in Glasgow is a modern and well-appointed hotel offering comfortable accommodations and a convenient city-centre location. With stylish rooms, contemporary amenities, and excellent dining options, it provides leisure and business travellers with a relaxing and enjoyable stay. The hotel's central location ensures easy access to Glasgow's top attractions, making it a convenient base for exploring the city.
Places to Eat

Glasgow, the cultural hub of Scotland, is not only renowned for its stunning architecture and vibrant nightlife but also for its incredible culinary scene. From traditional Scottish delicacies to international flavours, the city offers a diverse range of dining options to satisfy every palate.
Located in the heart of the West End, the Ubiquitous Chip has been a beloved institution in Glasgow since 1971. This iconic restaurant offers a unique dining experience with its rustic charm and emphasis on locally sourced ingredients. Indulge in Scottish classics like haggis, neeps, and tatties, or savour their creative vegetarian and seafood options. The restaurant also boasts a stunning rooftop terrace, perfect for enjoying a meal with panoramic views of the city.
For a contemporary and innovative dining experience, head to Ox and Finch in Finnieston. This trendy restaurant focuses on sharing plates, allowing you to sample a variety of flavors and textures. From small bites like crispy fried squid to larger dishes like slow-cooked lamb shoulder, Ox and Finch's menu is a delight for the taste buds. Vegetarians and vegans are also well catered for with their wide range of plant-based options.
Situated in the vibrant Merchant City, The Gannet is a must-visit for food enthusiasts. This Michelin Bib Gourmand awarded restaurant prides itself on showcasing the best of Scotland's natural larder. Expect dishes that highlight seasonal and locally sourced ingredients, prepared with precision and creativity. From their signature venison with beetroot to their heavenly sticky toffee pudding, The Gannet offers a truly unforgettable dining experience.
If you're craving authentic Italian pizza, look no further than Paesano Pizza. Located in the city centre and the West End, this popular pizzeria serves up Neapolitan-style pizzas that are simply irresistible. Made with fresh ingredients and cooked in a wood-fired oven, their pizzas are known for their thin, chewy crusts and delicious toppings. With a casual and lively atmosphere, Paesano Pizza is a great spot for a relaxed family meal
Finnieston Seafood in Glasgow is a renowned dining establishment serving fresh and delectable seafood dishes. Located in the trendy Finnieston neighbourhood, this restaurant offers seafood enthusiasts a contemporary and inviting atmosphere. Their menu typically features a variety of seafood options, including oysters, mussels, fish, and shellfish, all prepared with a focus on high-quality ingredients and culinary craftsmanship. Whether looking for a casual seafood meal or an exceptional dining experience, Finnieston Seafood is a popular choice in Glasgow for seafood lovers seeking a taste of the ocean in the city's heart.
Things to with Kids
Glasgow Science Centre: The Glasgow Science Centre is an interactive and educational attraction that's fun for kids of all ages. It features hands-on exhibits, a planetarium, and the famous Glasgow Tower. Children can engage in science experiments and learn about various scientific phenomena while having a blast.
Kelvingrove Art Gallery and Museum: Kelvingrove Art Gallery and Museum is a fascinating place to take kids. It houses diverse art and historical artefacts, including dinosaur exhibits, natural history displays, and daily organ recitals. Admission is free, making it an affordable family outing.
Glasgow Green: Glasgow Green is a large public park in the city, offering plenty of open space for picnics and outdoor activities. Kids can play in the playgrounds, explore the People's Palace and Winter Gardens (a museum dedicated to Glasgow's social history), and even enjoy a paddleboat ride on the park's pond.
Riverside Museum: The Riverside Museum, also known as the Glasgow Museum of Transport, is a fantastic place for kids who love vehicles. It houses a vast collection of vintage cars, trams, buses, and even a recreated cobbled Glasgow street from the early 20th century. Interactive exhibits and hands-on activities keep children engaged.
The Tall Ship at Riverside: Located adjacent to the Riverside Museum, The Tall Ship is an impressive sailing ship that offers a unique maritime experience. Kids can explore the ship's decks, cabins, and cargo holds while learning about its history and life at sea.
Glasgow is renowned for its warm hospitality and combines its industrial heritage with modern creativity. The city boasts a thriving arts scene, stunning architecture, a legendary music culture, and a welcoming spirit, making it a captivating and diverse destination for travellers of all interests. Whether you're exploring its world-class museums, enjoying live music, or simply savouring the atmosphere of its bustling streets, Glasgow offers an unforgettable urban experience in the heart of Scotland.