The Spiritual Haven of Iona
The Isle of Iona is a breathtaking Island in Scotland's sought-after Inner Hebrides. It has a rich history dating back to the sixth century, boasting stories of Viking invasions and monasteries central to the Island's culture. With a population of under 200, its remote nature and peaceful atmosphere make it the perfect getaway for anyone interested in quiet beauty. Although small, it also houses several fun holiday activities for artists, outdoor enthusiasts and history nuts.
Arriving on Iona is a relatively simple task; however, you'll have to ferry hop as it is only accessible from Mull, so we recommend a trip encompassing both magical islands. Cars are not permitted on the Mull to Iona ferry, so the best method of travel is definitely by train to Oban. From Oban, there are two CalMac ferries, one to Craignure on Mull, where you can travel by bus to Fionnphort and take a second ferry to Baile Mòr, Iona's cosy capital. There is then bike hire available; the whole Island can be cycled around in under an hour, so this is the optimal way to get around!
Iona is rich in arts and culture, so it is a perfect destination to arrive home feeling inspired. The Iona Craft Shop, a mere 2-minute walk from the ferry port, is a local arts and crafts hub. Here you can find glassware, ceramics, art prints, knitted clothing, hoodies, and if you're in the mood to get crafting yourself, wool, yarn and needle felting kits all made locally. The Iona Gallery is not just home to some of the Island's most unique art but also many annual exhibitions and resident artists throughout the year, meaning there is always something new to see. Again if you prefer a practical approach, there are frequent workshops to learn the tricks of the trade and derive inspiration from local landscapes. They also host multiple events for the yearly Kingussie Festival of Words in June, centring around spoken and written word from the past and present, describing itself as a celebration of thought.
Iona's history is fascinating, with many remnants still around today; it is known as a thin place with a deep history surrounding its religious significance. If this interests you, a trip to the Iona Abbey is necessary. The amazingly preserved site is a hub for Celtic Christianity dating back to around 536 AD when an Irish monk arrived, established a strong community and spread the faith around Scotland and the north of England. The Abbey and Nunnery exude a holy atmosphere, and it's impossible not to feel overwhelmed by the architecture and surrounding scenery. On the grounds, you can also find St Oran's Chapel, believed to be the resting place of many Scottish and Norwegian kings. Travelling south of the Island, you can find Marble Quarry, a beautiful white marble and yellow serpentine attraction. There is no road access, so you'll have to trek through rough terrain, which makes the view feel all the more special. It is rumoured that the high altar of the Medieval Abbey Church was made of this very marble, and a visit here will have you connecting with your inner spirituality.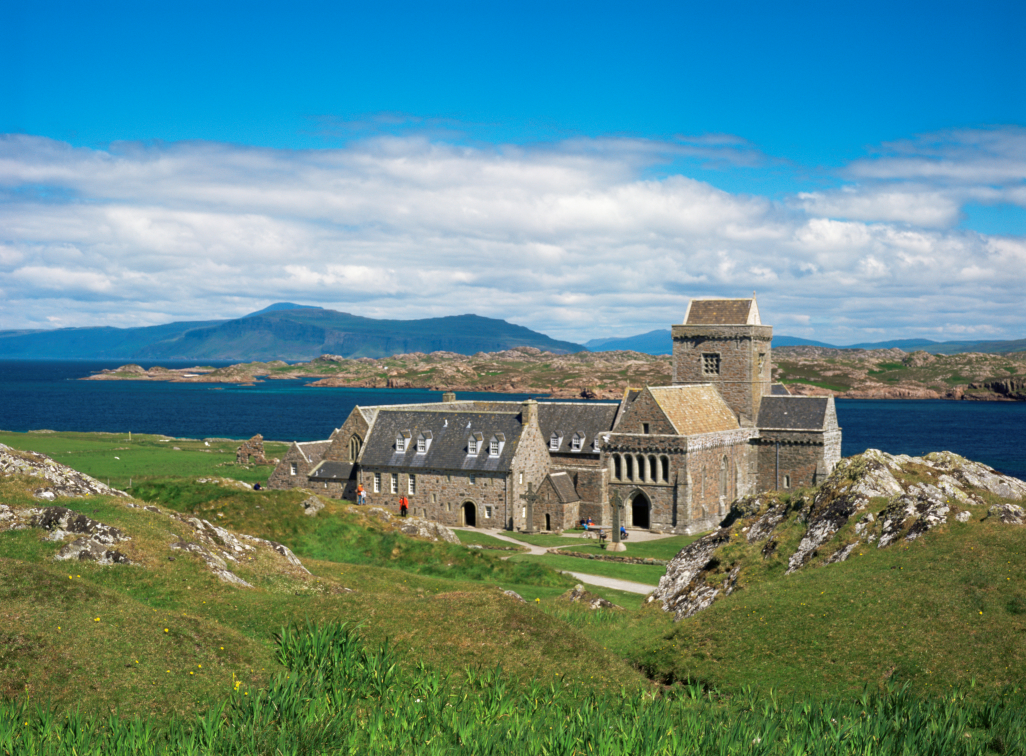 For the outdoor enthusiast, Iona offers a multitude of adventures. Bike rental is available from the Iona Craft Shop in Baile Mòr, where you'll need to email detailing your hiring requirements in advance. From there, the Iona Cycle Path, an easy 1hr mountain biking excursion for all fitness levels, begins at the village. On this route, you can explore beaches such as St Columba's Bay, where the Sithean, or Hill of the Angels, is located. The white sands and deep blue sea make it a perfect place to enjoy the elements. Staffa Island is a geological paradise with gorgeous natural rock formations unlike anything you can find elsewhere; it is accessible by boat trip from Iona or Mull. Its beauty has inspired many works of art over the years but perhaps was most famously depicted in Mendelssohn's' Hebrides Overture.
The Argyll Hotel-
Located in Baile Mòr, the Argyll Hotel has outstandingly unique rooms dating back to the 1860s with a small cosy atmosphere. After a long day of exploring Iona, it is the perfect place to return to and melt into the mattress. Downstairs you can find the hotel restaurant, the no.1 eatery on the Island. The menu has options for all dietary requirements and is part of the Iona and Mull food trail committed to locally sourced foods with great flavour and exciting compositions. All bar one rooms have an en suite, and the standout has a private bathroom; the rooms are on the smaller side but full of character. Hypoallergenic bedding is also available upon request.
St Columba Hotel-
This 27-bedroom haven, located just by the Abbey and Nunnery, offers en suite rooms with a garden or sea view. It is a short walk/cycle from the local restaurants, and you can expect a complimentary full breakfast every morning. The hotel restaurant has a stunning menu with plenty of options for allergies and an exciting array of local food. St Columba Hotel has a range of room types with suites, family rooms, spacious doubles and twins, making it compatible with any traveller. The hotel also offers pilgrimages of the Island with John Philip Newell, a prominent teacher of Christianity, which involves morning and evening meditations and prayers broken up by hikes and spiritual healing exercises during the day. It is a unique experience for anyone wishing to connect to Iona's history.
Ardoran House B&B-
Ardoran House is a luxury bed and breakfast with a cook-to-order system in the mornings. The spacious rooms have complimentary toiletries, extra blankets for the Winter travellers and range from twins to doubles. The character of these rooms is unmatched, and there is a super comfortable lounge area downstairs to sit back, relax and plan the day's adventure.
You can expect relaxing views over the sea or the croft, which make waking up and going to sleep a magical experience. It is a 5-minute walk from the local restaurants and bars or a ten-minute walk from the Abbey, which is optimal for the relaxed holiday goer.
Iona Pods-
Just a 12-minute walk from the ferry port and centre of Baile Mòr, the Iona Pods offer a unique and remote glamping experience. The pods are reinforced timber and have various options based on what you want from the experience. The standard pods boast one double and two single beds, a microwave, kettle, mini fridge, hot plate and cooking utensils, making it a perfect little hub for a family getaway. They provide linens in the standard pods but ask you to provide your towels. There are ten standard pods, and recently, four en-suite pods have been added to the site. These are complete with a king-size bed, a hob, a small oven, a fridge freezer and cooking utensils. The en suite pods provide linens and towels for your stay, offering a more luxurious approach.
Skerryvore B&B-
Skerryvore is an idyllic architect-built house next to the Iona Golf Course. The course is littered with sheep and cows and will provide a sporting experience. It is a 20-minute walk from the ferry port but feels much more remote, with views of the greenery backing out for miles and miles. You can cook your dinner in the guest kitchen if you don't feel like eating out, and in the winter months, your friendly hosts, Joyce and Lindsay, will provide evening meals. The guest lounge has panoramic views of the ocean and a telescope if you fancy searching for some local wildlife. This B&B is perfect for those searching for a home away from home.