Exploring the Enchanting Orkney Islands: A Scottish Gem

North of Scotland's mainland you will find the magical Orkney Islands standing as a captivating testament to Scotland's rich history, breathtaking landscapes, and vibrant culture. This archipelago, comprising around 70 islands, boasts a unique blend of ancient historical sites, stunning natural beauty, and warm hospitality. Whether you're a history enthusiast, a nature lover, or simply seeking a tranquil escape, Orkney offers a diverse array of experiences that amaze you.
Hoy is one of the Orkney Islands, located in the northern part of Scotland. It is known for its stunning natural beauty, rugged coastline, and diverse wildlife. The island features dramatic cliffs, such as the famous Old Man of Hoy sea stack, picturesque beaches and moorland. Hoy also has a rich history, with archaeological sites dating back thousands of years, including the well-preserved Neolithic village of Skara Brae. It's a popular destination for outdoor enthusiasts, hikers, birdwatchers, and those seeking a tranquil escape in a remote island setting.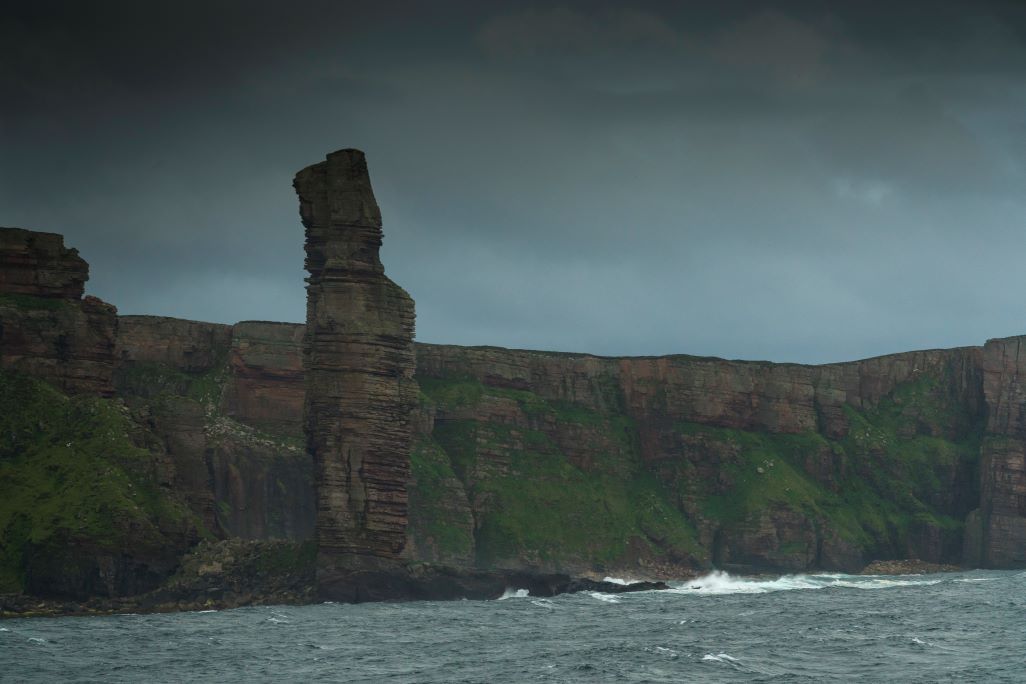 How to get there:
The Orkney Islands are a group of islands located in northern Scotland. To get to the Orkney Islands, you can choose from several transportation options, depending on your starting point and preferences:
By Ferry:
The most common way to reach the Orkney Islands is by ferry from the Scottish mainland. Ferries depart from several ports on the continent, including:

Scrabster (near Thurso) to Stromness on Mainland Orkney.
Gills Bay (near John o' Groats) to St. Margaret's Hope on South Ronaldsay (connected to Mainland Orkney by a causeway).
Aberdeen to Kirkwall on Mainland Orkney.

Caithness to various Orkney islands.
Ferry services are operated by NorthLink Ferries, Pentland Ferries, and Orkney Ferries. Check the ferry schedules and book your tickets in advance, especially during summer.
By Air:
You can also fly to the Orkney Islands from airports on the Scottish mainland, including Aberdeen, Inverness, and Edinburgh. Kirkwall Airport on Mainland Orkney is the primary airport in the archipelago, offering regular flights.
Loganair is the leading airline providing flights to Orkney. Flight durations are relatively short, and you can enjoy scenic views during the journey.
By Cruise Ship:
Some cruise ships include the Orkney Islands as a stop on their itineraries. If you're on a cruise, this can be a convenient way to visit Orkney for a day or more, depending on your cruise schedule.
By Bus and Ferry:
If you're travelling by public transportation, you can take a bus to one of the ferry ports on the mainland and then continue your journey to the Orkney Islands by ferry. For example, you can take a bus to Scrabster or Gills Bay and catch a ferry to Orkney.
Things to do

Skara Brae is located on the Bay of Skaill in the Orkney Islands, Scotland. It is situated on the main island of Orkney, near the village of Skaill. Skara Brae's remarkable preservation and historical significance make it an essential destination for anyone interested in ancient history, archaeology, and the evolution of human civilization.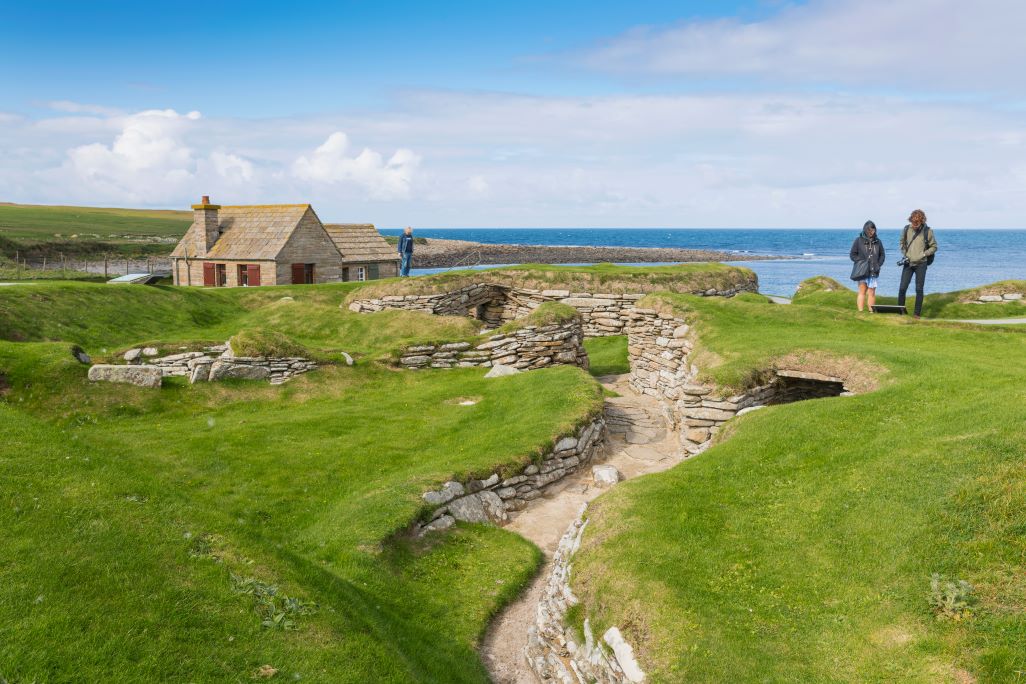 Ring of Brodgar offers a mesmerising opportunity to witness one of the most awe-inspiring stone circles in the world. Its ancient and mysterious allure, with 27 perfectly aligned standing stones against the dramatic Orkney landscape, creates a profound connection to our distant past. The Ring of Brodgar is a remarkable stone circle and henge monument located on the Orkney Islands, off the northern coast of Scotland.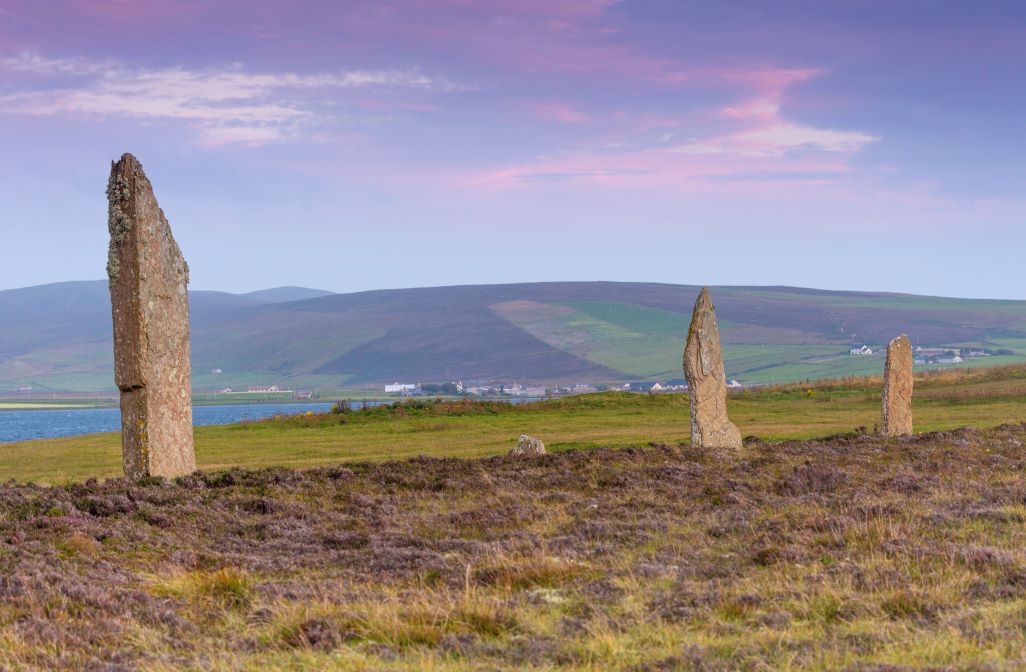 Skaill House is a historic mansion on the western coast of Mainland Orkney, Scotland. It is one of Orkney's most prominent and well-preserved manor houses, notable for its rich history and picturesque setting.Visitors to Skaill House can explore its various rooms, including the elegant drawing room, dining room, and bedrooms, each offering a glimpse into the lifestyle of Orkney's past inhabitants.

Orkney Folk Festival is an annual music festival that takes place on the 23-25 of May festival that celebrates traditional folk music from Orkney and beyond. Musicians, singers, and bands gather to perform in various venues across the islands, creating a vibrant atmosphere of live music and community.
St. Magnus Cathedral, located in Kirkwall on the island of Mainland in the Orkney Islands, is a magnificent mediaeval cathedral dating back to the 12th century. It is one of Scotland's most impressive and historically significant cathedrals. The cathedral's interior features ornate stained glass windows, a richly decorated ceiling, and a serene atmosphere, making it a must-visit site for tourists and history enthusiasts exploring the Orkney Islands.
Old Man Hoy is a famous sea stack located on the island of Hoy in the Orkney archipelago of Scotland. It is one of the most iconic natural landmarks in the United Kingdom. This tall sea stack rises dramatically from the sea, standing at approximately 137 metres (around 450 feet) in height. The Old Man of Hoy is known for its striking appearance, with rugged cliffs and isolated, freestanding rock pillars. It has become a popular destination for climbers and adventurers seeking to ascend its challenging vertical face.
Places to Stay
Many accommodations in Orkney offer stunning views of the coastal landscapes, allowing one to experience the islands' natural beauty. Whether you're looking for a cosy stay in a traditional Orkney home, a comfortable hotel with modern amenities, or a more rustic camping experience, you'll find options to immerse yourself in the island's unique atmosphere while enjoying warm hospitality.

The Lynnfield Hotel in the heart of Kirkwall, Orkney, offers a welcoming and comfortable retreat for visitors seeking to explore the islands' rich history and natural beauty. This family-run hotel provides a warm and personal touch, making guests feel at home. The Lynnfield Hotel's convenient location allows easy access to local attractions, shops, and dining options.
The Foveran Hotel is a charming boutique in Kirkwall that offers luxurious accommodations and breathtaking sea views. It provides an elegant and enchanting escape for those seeking a blend of modern elegance and scenic beauty. Overlooking the mesmerising sea views, this boutique hotel offers a serene retreat with well-appointed rooms, upscale amenities, and personalised service.

St. Ola Hotel, located in the heart of Kirkwall on the Orkney Islands, offers a comfortable and convenient stay for travellers exploring the area. This welcoming hotel provides cosy accommodations, making it an ideal base for discovering local attractions and historic sites. Guests can easily access Kirkwall's charming streets, shops, and eateries with its central location. The St. Ola Hotel's friendly atmosphere and proximity to the town's offerings ensure an enjoyable visit to Orkney.
The Merkister Hotel, situated on the shores of Harray Loch in Orkney, offers a tranquil and picturesque escape for visitors seeking a blend of natural beauty and comfortable accommodations. This charming hotel provides a serene atmosphere, stunning lake views and a peaceful ambience. Guests can relax in well-appointed rooms, enjoy locally sourced cuisine at the on-site restaurant, and take in the panoramic landscapes that surround the hotel.
Lower Quoys Self Catering, nestled in the heart of Orkney's captivating landscapes, offers a cosy and independent stay for travellers seeking a self-catering experience. This charming accommodation provides comfortable lodgings with all the essentials for a home-away-from-home stay. Guests can enjoy the freedom of preparing their meals in well-equipped kitchens while surrounded by the natural beauty of Orkney.
Pierowall Hotel is a three-star hotel ideally situated in the heart of Pierowall Village, the largest community on Westray Orkney, affectionately called the "Queen o the Isles." It's an enchanting destination for guests seeking the unhurried rhythm of island living. Offering a diverse array of captivating activities to keep you and your family thoroughly entertained, the Pierowall Hotel is your ideal starting point for an unforgettable holiday experience.
The world's shortest scheduled flight connects Papa Westray and Westray, two tiny islands in the Orkney archipelago of Scotland. This remarkable flight covers a distance of just 1.7 miles (2.7 kilometres) and is often referred to as the "world's shortest flight" or "Scotland's shortest flight." Operated by Loganair, the flight takes approximately 1-2 minutes from takeoff to landing, making it an astonishingly brief journey.
Passengers on this unique flight experience a swift and thrilling ride as they hop between these two charming Orkney islands. The flight offers breathtaking views of the rugged coastlines and scenic beauty of the Orkney Islands, adding an extra layer of excitement to this concise but unforgettable aviation experience.
Places to Eat
The Orkney Islands offer various dining options, from traditional Scottish cuisine to fresh seafood. Here are five places to eat in the Orkney Islands that you might want to consider:
The Foveran Restaurant (St. Ola, Mainland Orkney):
The Foveran is a well-regarded restaurant located in a beautifully restored farmhouse. It offers a seasonal menu featuring locally sourced ingredients, including Orkney lamb and seafood. The cosy atmosphere and fine dining experience make it popular among visitors.
Helgis (Kirkwall, Mainland Orkney):
Helgis is a popular seafood restaurant in Kirkwall known for its fresh, locally sourced seafood dishes. The menu includes various seafood options, from crab and lobster to Orkney scallops, all prepared with a focus on quality and flavour.
The Peedie Chippie (Kirkwall, Mainland Orkney):
For a taste of classic Scottish fish and chips, head to The Peedie Chippie in Kirkwall. They serve freshly fried fish and chips with a choice of accompaniments. It's an excellent option for a casual meal.
The Sands Hotel Restaurant (Burray, South Ronaldsay):
The Sands Hotel Restaurant is located on the island of South Ronaldsay and offers a menu emphasising locally sourced ingredients. Guests can enjoy dishes featuring Orkney produce and seafood while enjoying scenic views of the coastline.
The Kirkwall Hotel Restaurant (Kirkwall, Mainland Orkney):
The Kirkwall Hotel Restaurant offers a diverse menu featuring Scottish and international dishes. With a comfortable and welcoming atmosphere, it's a great place to enjoy a meal in the heart of Kirkwall.
These are just a few dining options in the Orkney Islands. Remember that Orkney is known for its fresh seafood, so take advantage of the opportunity to try locally caught fish and shellfish during your visit.
Things to do with Kids
The Orkney Islands offer a range of family-friendly activities and attractions that kids of all ages can enjoy. Here are five things to do with kids in the Orkney Islands:
Visit Skara Brae:
Skara Brae is a fascinating Neolithic village preserved for thousands of years. Kids can explore the well-preserved stone houses, learn about ancient history, and even see a reconstructed house. The site also offers interactive exhibits and a visitor centre.
Explore Maeshowe:
Maeshowe is a chambered cairn and a UNESCO World Heritage Site. While the interior may not be suitable for young children, older kids can join guided tours to learn about its history and the Viking runes left inside the tomb.
Take a Ferry to the Outer Islands:
Kids often love boat rides, and the Orkney Islands have regular ferry services to the Outer Islands like Hoy and Rousay. These islands offer opportunities for hiking, wildlife watching, and exploring ancient ruins, making them great for family day trips.
Visit Orkney's Beaches:
Orkney has beautiful beaches like the Bay of Skaill on Mainland Orkney. Kids can enjoy playing in the sand, exploring rock pools, and spotting marine life. Be sure to dress warmly, as the North Atlantic waters can be chilly even in summer.
Orkney Brewery Tour:
If you have older kids or teenagers, consider taking them on a tour of the Orkney Brewery. While the brewery tour may not be suitable for very young children, older kids can learn about the brewing process, and everyone can enjoy the pleasant surroundings and sample some non-alcoholic beverages.
Remember to take advantage of the natural beauty and wide-open spaces of the Orkney Islands. Go for family walks, hikes, or bike rides, and enjoy the stunning landscapes, birdwatching opportunities, and the chance to connect with nature. Orkney, an archipelago, is a captivating blend of ancient history, stunning landscapes, and vibrant culture. The islands are known for their exceptionally well-preserved Neolithic sites, such as Skara Brae and the Ring of Brodgar, which provide insights into prehistoric life. Orkney's dramatic coastlines, white sand beaches, and abundant wildlife make it a haven for nature enthusiasts.